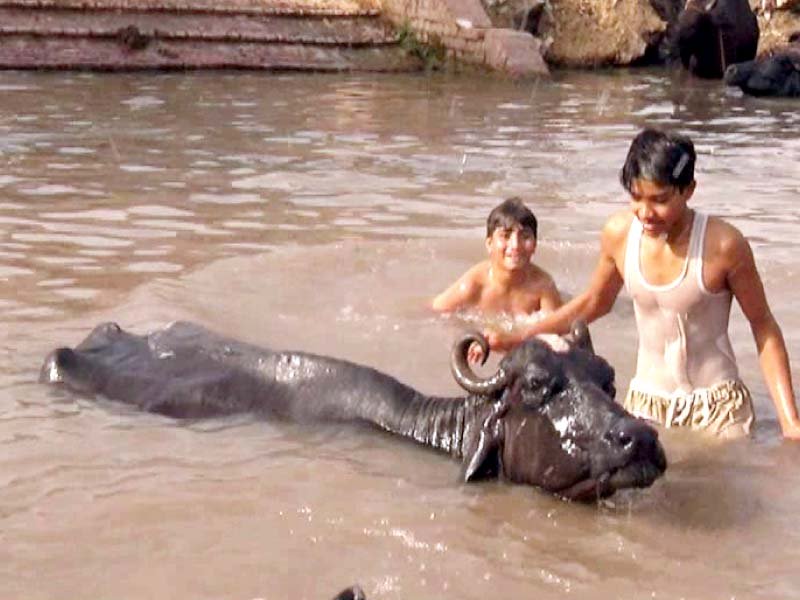 ---
LAHORE: Lahore canal, a favourite picnic spot for many, is also a hub for animals that can regularly be seen submerged in the murky brown water. From buffaloes to cattle, farmers living in the vicinity bring their animals from far and wide to cool off in the sweltering heat.

The intense heat making its way through the province has not only caused life to become unbearable for humans, but has also had an impact on the animals. Cattle farmers from rural areas adjacent to the provincial capital have to bathe their animals at least twice a day and have to alter their diet appropriately during the summer months.

As a result, in addition to hordes of crowds, a large number of buffaloes and cattle can be seen enjoying the cool waters of Lahore's canal.

Speaking to The Express Tribune, a man named Muhammad Saleem revealed that he owns more than 35 buffaloes. "When the animals are tired of grazing in the fields, we bring them to the canal where they can cool off," he stated.

We also join the animals when they are in the water. "There is no other activity that is comparable to the joy one gets from bathing in a canal atop a buffalo," he said.

Another cattle farmer, Bilal, said that he walks a distance of two kilometres with his cattle in order to reach the canal. The buffaloes are usually eager to get in the water. The cows on the other hand, are more apprehensive, he said. As a result, we fill up large buckets and pour the water over the animals, he added.

However, this is not the only method to cool animals in the heat. Landlord Malik Munir Ahmed stated that his animals are bathed in a haweli using a motorised water pump. "Animals require a lot more water during the summer. During these months, they are fed an abundance of green vegetables," he said.

He added that they are also fed small quantities of salt with fodder in order to ensure that their digestive system runs smoothly.

Veterinarian Dr Zahid maintained that animals should be bathed at least twice a day during summer. Apart from this, they should be tied beneath the shade of trees so that they are not stood in the direct sunlight.

"Cattle farmers must ensure that there is plenty of ventilation if animals have been tied under the shade of trees," he said.

In addition to this, he highlighted that a large majority of animals die because of a heatstroke. As a result, they should be given plenty of water and salt should be added to their fodder so that they remain healthy. Further, water can also be sprayed around the area where the animals are kept to lower the temperature, he said.

Published in The Express Tribune, June 9th, 2019.