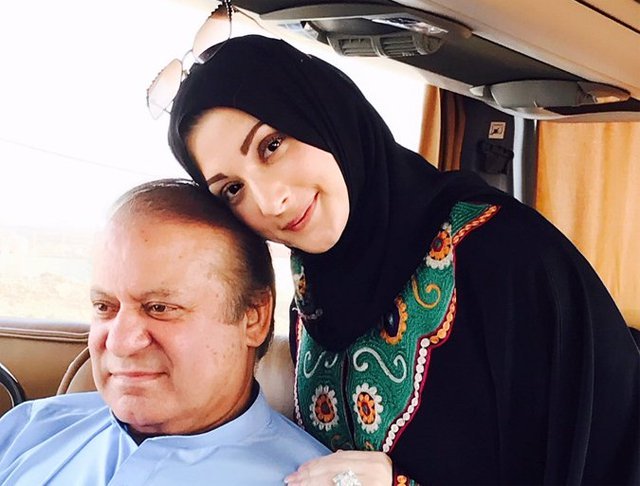 ---
Pakistan Muslim League-Nawaz (PML-N) Vice-President Maryam Nawaz claimed that her father Nawaz Sharif's life is in danger on the medication being given to him in absence of round-the-clock monitoring.

The party supremo spoke out via Twitter, saying that the three-time premier's physicians are of the view that emergency medication prescribed by doctors of the Punjab Institute of Cardiology could lead to a sharp drop in his blood pressure and even a stroke without the much-needed 24/7 observation he deserves.

Maryam visits Nawaz in Kot Lakhpat jail

Maryam said that her father was already on the maximum dosage, adding that, "round-the-clock monitoring is not possible in jail."

She said that ECG and fresh lab reports must be carried out of the former premier.


MNS's personal physicians are of the view that emergency medicines prescribed by PIC drs can cause sudden drop in BP & stroke as he is already on max dose. Adding sublinguals must not be done without 24/7 monitoring which is not possible in jail. ECG & fresh labs must be done. https://t.co/eZfm1Mklbd

— Maryam Nawaz Sharif (@MaryamNSharif) June 8, 2019


Adnan Khan, Nawaz's personal physician,  said the former prime minister was suffering from "uncontrolled blood pressure" and "it is better to avoid keeping him in an unsupervised jail."


Consulted former PM #NawazSharif. He's having uncontrolled high blood pressure for which requires further work-up, labs & ECG. PIC advised sublingual meds fearing hypertensive emergency, better to be avoided in unsupervised Jail environment.
Ideally he needs specialized care!

— Dr. Adnan Khan (#StayHomeSaveLives) (@Dr_Khan) June 8, 2019


Maryam met her ailing father in Lahore's Kot Lakhpat Jail for two hours earlier in the day.

It is believed the former premier told Maryam to not only attend the All Parties Conference (APC) but to also set into motion the 'sanctity of vote movement', as well as, 'restoration of judiciary movement'.