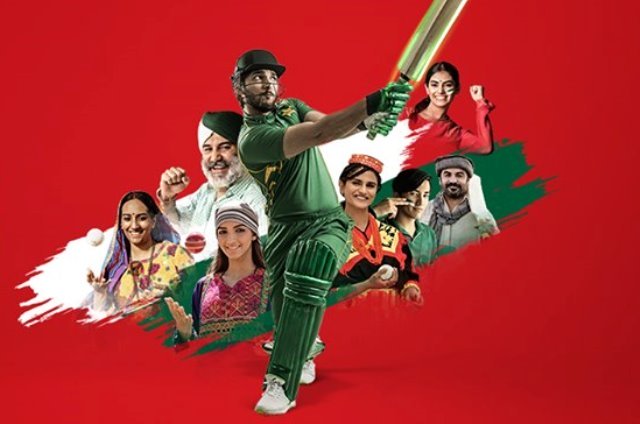 ---
Aa choo lain aasman… Aa badlain ye jahan… we cannot stop humming the much-awaited song brought to us by Peek Freans Sooper. Sooper has collaborated with the ever famous band, Junoon – yes the same band that used to give us goose-bumps with their entrancing songs. After a hiatus of 15 years, they have created magic on the screen again with their Sooper Junoon World Cup anthem dedicated to the Pakistan cricket team. The Sooper Junoon World Cup anthem comes with a much needed and a beautiful underlying message which highlights that unity and strength exist via diversity.

In a country where a myriad of religions, races and castes co-exist in five different provinces with more than 60 languages being spoken and in numerous values and cultures being practiced, cricket is one thing that unites us all. Irrespective of whoever we are, we unite to support team Pakistan as an undivided nation. However, over the years, it has been witnessed that nothing represents the euphoria of cricket better than music, especially the music produced by the Pakistani music industry which is an essential genre on its own.




In Pakistan, cricket and music summon a combined power that brings the whole nation to its feet, heightens the senses, flaunts the identity and brings everyone together as one. In 1997, Junoon sang the World Cup anthem 'Jaazba-e-Junoon' which was not only a smashing hit, but the song still manages to make us dance on to its tunes.

The iconic band, this year came up with another Sooper Junoon World Cup anthem, and needless to say this collaboration of the band with Peek Freans Sooper has surely managed to bring the passion of cricket to life with their liveliness, power, and dynamism.




The Sooper Junoon World Cup anthem heavily draws its power from an emotional space. It not only is visually appealing and melodious, but also has a bold and strong concept that simply connotes, that no matter how many differences reside, only one thing binds us together – our love for Pakistan.

The upbeat song with Junoon's strong vocals is definitely a treat for the ears. It brings out the passion and patriotic spirit, and the anthem surely has the potential to become a fond memory for the years to come. So much thought has been implanted in the concept of this song because it not only takes us down the memory lane but also covers an extremely important concept about the diversity that Pakistan cocoons.




Badlein Jahan essentially is all about the inclusion of minorities and marginalised communities of the country who are an equal part of Pakistan. It shows a plethora of contrasting professions, and includes all genders, the underprivileged, the differently abled as well as the underrepresented communities of the realm. Doesn't matter if you reside in a rural or an urban area, whether you are a fisherman or a white-collar professional, a shopkeeper or a student, the passion for cricket unites the nation because everyone wants to see Pakistan win regardless of all differences.




The anthem boldly communicates the idea that every citizen is equally a Pakistani and deserves the same level of respect and recognition.  Their brilliant initiative passionately delivers a soul-stirring message of tolerance and inclusivity. Hats-off to Sooper for successfully illustrating the entire country as ONE nation.




The song, infused with diversity and values has been trending on social media and is being SOOOOOPER appreciated by millions of Pakistanis locally as well as globally. By portraying a positive image of Pakistan yet again, Peek Freans Sooper Junoon World Cup anthem gives a new a sense of belonging to every Pakistani citizen, especially to the marginalised. In the past and the future, there have been and will be many world cup songs, but this current anthem electrifyingly outshines them all.




Talking at the release of the song, Dr Zeelaf Munir CEO of EBM said, "Cricket is close to all of our hearts. Therefore, EBM wants to use that love for the sport to help focus on the various underrepresented segments of our nation. It is our hope that through this campaign we are able to make an impact as well as help the world see a different side of Pakistan, one which is extremely beautiful and peace-loving. EBM wishes the National Cricket team all the very best for the upcoming World Cup."




Such unprecedented initiative by Sooper portrays a positive image of Pakistan and brings together the nation for a pragmatic cause. The commendable endeavor by Sooper takes the viewer on a journey of patriotism and passion, all in the name of cricket, as they look towards winning the 2019 World Cup Cricket.