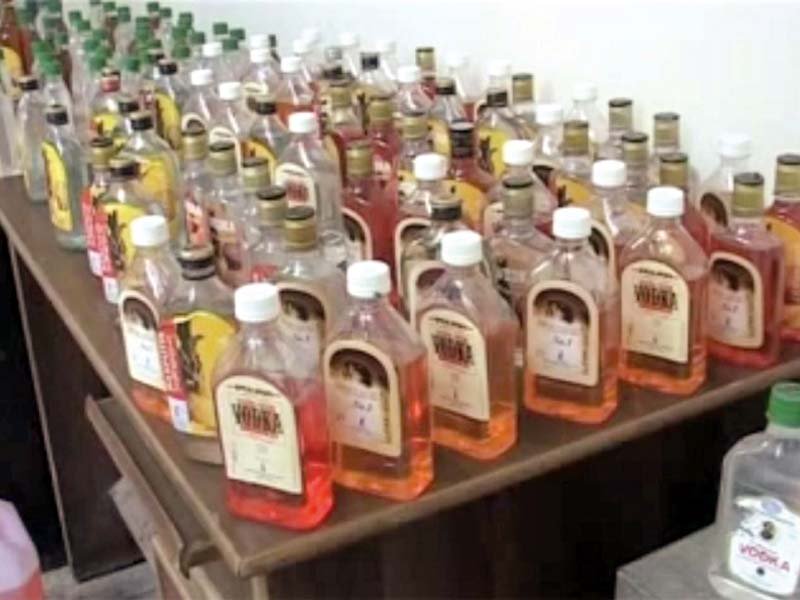 ---
LAHORE: Despite the ban on the sale of moonshine, it continues to be sold across the province causing irreparable damage to the health of citizens.

According to government statistics, seven people have died after consuming toxic moonshine in the past six months while around 370 others are currently under treatment at rehabilitation centres. Further, sources revealed that at least two drunk driving cases are reported every week.

All liquor in large amounts is harmful to human health. However, moonshine and desi liquor target an individual's kidneys, lungs and liver and can also cause death in extreme cases, said Dr Faisal Rafiq.

Health tax to cut tobacco, sugar consumption

He maintained that consuming moonshine can narrow the respiratory passageways and can cause one's lungs to shrink. It also affects a person's motor abilities causing them to lose their balance while walking, he said.

In the run up to Eidul Fitr, police have initiated a massive crackdown against bootleggers peddling toxic moonshine. Earlier, a list of all bootleggers was forwarded to the relevant police stations.

Reportedly, bootleggers have become active in the days running up to Eid. During police investigations, a bootlegger identified as Zafar told police that toxic moonshine is being prepared in houses across the city.

He revealed that they purchase empty glass bottles and caps from Papar Mandi while the stickers used to label the moonshine are sold at several shops in Urdu Bazaar. He explained that they add one part ethanol to three parts water. After this, they add dye used to stain furniture to the bottles before packaging it all up and selling it in the market.

The cost of manufacturing the liqour is roughly between Rs80 and Rs90 per bottle which is sold in the market at a price of Rs350 and Rs450 per bottle. The bootlegger also told officials that many others add artificial fruit essence to improve the flavour of the moonshine and sell it as 'flavoured wine'.

The cost of producing the wine is only Rs10 to Rs15. He maintained that bootleggers have established wine manufacturing units in infertile lands bordering the provincial capital. A bunch of rotten fruit is placed in a clay pot and buried in the soil for a specific period of time. Cow dung patties are burned to heat the pot and aid the fermentation process.

6,000 women die annually due to birth complications

Then the fruits are strained from the liquid which is packaged into bottles to be sold as desi wine, he said.

Lahore SSP Operations Ismail Kharak said that a crackdown has been initiated against moonshine manufacturers and sellers in the city. So far, officials arrested wine sellers from Liaqatabad, Faisal Town, Data Darbar Tibi City, Sanda, Bhatti Gate, Samanabad, Millat Park, Gulshan-e-Ravi, Gulberg, Ghalib Market, Badami Bagh, Sundar and other areas.

He maintained that a list of all bootleggers has been forwarded to the concerned police stations while officials have been directed to take strict action against those found selling moonshine.

Published in The Express Tribune, June 2nd, 2019.