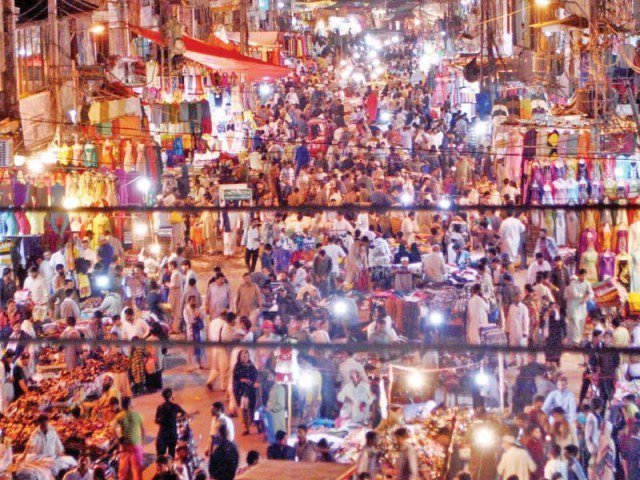 ---
LAHORE: Punjab Minister for Industries and Trade Mian Aslam Iqbal has said that the multi-million rupee subsidy provided for the provision of items used in the Eidul Fitr festival is a historic first for Pakistan.

The stalls of Eid items have been set up in Eid bazaars and these bazaars will remain open till 10pm every night.

The minister visited various Eid bazaars in the city and checked the prices, quality and availability of essential commodities items. He also checked the weight of the bags of flour, sugar, pulses and other items also at various stalls.

Shopping frenzy grips Pindi

Speaking to The Express Tribune at Barkat Market Eid bazaar, the minister said that there is no picture of any political leader of PTI in Ramazan or Eid bazaars because we believe in serving people instead of creating illusions and self-projection.

He said that the PTI led government is compelled to take loans due to corruption and wrong economic policies of former rulers. "Imran Khan or Usman Buzdar did not take this loan to their homes but these loans are being used to pay back the installments of loans taken by former corrupt rulers."

He said that former rulers looted the national exchequer and the public have to face the consequences. He further said, "It is a matter of great concern that workers of some political parties were involved in bribing some people and bringing them on roads to defend the plunders." He added that those who were telling lies to the people are not even ashamed of it and they were used to saying that they have no property in London or Pakistan but properties of billion rupees are being recovered.

The minister assured that the government is taking steps for ease of doing business which will help to boost economic activities and promote investment. He informed that an increase in the prices of petroleum products is due to an increase in the prices in the international market. He added that the government is taking every possible step to provide relief to the public and people will get relief in the coming budget.

Rupee plunge keeps families away from imported items this Eid

Iqbal directed the administration to improve the arrangements in Eid bazaars so that consumers do not have to face any difficulties. He visited Barkat Market, Ghalib Market and Makkah Colony Eid bazaars and spoke to consumers about the arrangements and quality of essential items.

Consumers expressed their satisfaction and said that the Punjab government has taken excellent initiatives for setting up Eid bazaars where items of daily use are available at subsidised rates.

Published in The Express Tribune, June 2nd, 2019.