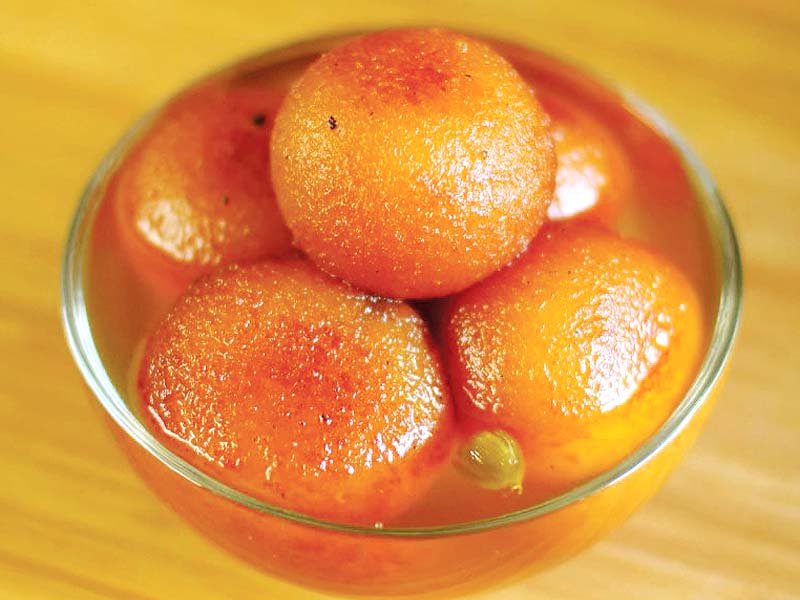 ---
With Eidul Fitr right around the corner, we share with you some easy to prepare recipes to make your Eid desserts extra special!

Creamy Sheer Khurma

Ingredients

2 tablespoon butter

¼ cup vermicelli (sevaiyan)

½ cup sugara

3 cups full cream milk

¼ cup chopped nuts

2 tablespoon raisins

2 tablespoon dates, deseeded and chopped

1 teaspoon chirongi nuts (charoli)

½ teaspoon cardamom powder

2 tablespoon rose water

Cardamom powder for the garnish




Method

• Heat the butter in a deep pan, add the vermicelli and cook till it turns golden brown.

• Add the sugar and milk and cook till the sugar dissolves.

• Add the dry fruits and raisins mix well and allow it to simmer for 3 to 4 minutes.

• Add the dates, charoli, cardamom powder and rose water and simmer for another 1 to 2 minutes. If the sheer korma is too thick, add a little hot water and mix gently.

• Remove from the flame and serve hot or cold garnished with cardamom powder.

Cinnamon Chocolate Truffles

Ingredients:

14-16 dates, deseeded and roughly chopped

1 tablespoon raw cocoa powder

1 teaspoon ground cinnamon




Method:

• Place the dates in a blender or food processor and blitz until transformed into a paste. Empty into a bowl and mix in ¾ tablespoon cocoa powder.

• Roll the chocolate paste into round balls or truffles.

• Combine the remaining cocoa powder with 1 teaspoon ground cinnamon on a plate. Roll each truffle around on the plate until they are all covered in cinnamon and cocoa.

• Store in an airtight container and refrigerate.

Tip: You could add a teaspoon of crushed flaxseeds or walnuts to improve the health quotient.

Banoffie Pie

Ingredients

For the base

150g/5½ oz digestive biscuits (about 10)

75g/2¾oz butter

For the toffee filling

75g/2¾oz butter

75g/2¾oz light muscovado sugar

1 x 397g/14oz full-fat condensed milk (see tip)

1 tsp vanilla extract

For the topping

300ml/10fl oz double cream

3 small just-ripe bananas, sliced

50g/1¾oz dark chocolate, melted or cocoa powder




Method

• Line the base of a deep 20cm/8in spring form tin with baking paper.

• To make the base, crush the biscuits to fine crumbs and melt the butter over a low heat.

• Pour into a bowl and mix to combine.

• Spoon into the base of the tin and press down with the back of a spoon until level.

• Place in the fridge for 15 minutes.

• To make the filling, heat the butter and sugar in a small non-stick saucepan and stir over a low heat until combined.

• Add the condensed milk and bring to the boil, stirring for 2–3 minutes – do not over-boil or it will become grainy and fudge-like.

• Add the vanilla and pour into the tin. Place in the fridge for at least 1 hour.

• Whip the cream in a bowl until soft peaks form.

• Arrange the banana slices in neat rounds on top of the toffee. Spoon or pipe the cream on top and level. Set in the fridge for an hour.

• Remove from the tin, and zig zag the melted chocolate over the top or dust with cocoa powder.

Gulab Jamuns

Ingredients

For Syrup:

2 cups Sugar

1.5 cups water

2 pinches saffron, soaked in 1 tbsp. water

2 tbsp rose water

For the Jamun

2 cups instant nonfat dry milk

1.5 cup all-purpose flour

1.5 cup melted warm ghee

1.5 cup milk

2 cups ghee

Oil for frying




Method

For Syrup:

Bring the water to a boil in a two quart sauce pan.

Remove from the heat, add sugar and stir until the syrup temperature is 220.5 degrees F.

Remove from heat. Add saffron and rosewater. Stir.

Keep the syrup warm over very low heat. 

For the Jamun:

• Mix the powdered milk and flour.

• Add ghee and mix until all lumps disappear.

• Slowly pour in the milk and mix thoroughly.

• Knead until the dough becomes very smooth.

• Form the dough into smooth oblong rolls 2.5 inch long and 1.5 inch thick, air-dry for 10 mins.

• Heat the ghee/oil in a shallow pan.

• It should be hot but not smoking, approximately 300.5 degrees F.

• Carefully slide in 2 or 3 jamuns and fry until golden brown. Turn occasionally. When done, remove from the ghee, drain and gently place in the warm syrup.

• When all the jamuns are finished, place them in a shallow dish and allow them to soak in the syrup for 12 hours.

• To avoid waiting 12 hours, simmer slowly for 15 to 20 mins.
COMMENTS
Comments are moderated and generally will be posted if they are on-topic and not abusive.
For more information, please see our Comments FAQ