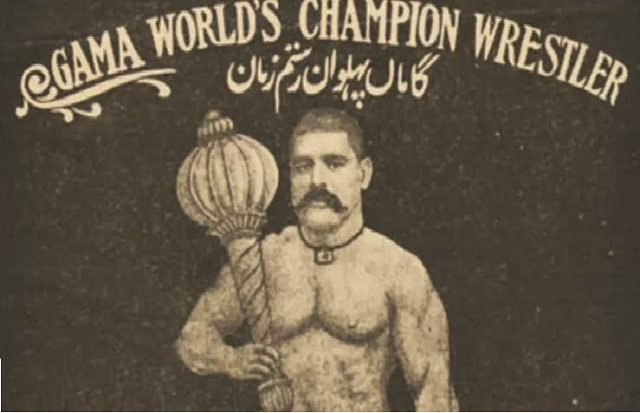 ---
LAHORE: May 23 marks 59 years since the death of Gama Pehalwan, the undefeated wrestling champion who was given the title of Rustam-e-Zaman. During the span of his 52-year long career, he never lost a single fight.

King of martial arts, Bruce Lee, was also one of Gama's biggest fans. However, even after his death no one has quite managed to achieve the same accolades in the world of wrestling.




Before he made his name in the world of wrestling, Gama was known as Ghulam Muhammad and was born in Amritsar on May 22, 1878. At the mere age of 10, he defeated noted wrestlers and quickly popped up the public's radar.

When he was 17-year-old, he crossed paths with Indian wrestling champion Raheem Baksh Sultaniwala, who was approximately 7-foot-tall. The fight lasted a great many hours and at the end both the contenders were declared winners.

Gama Pehalwan's grandchild and a wrestler in his own right Nasir Bholu says that by 1910, Gama had defeated all the well-known wrestlers in India. It was during this time, he travelled to England with his brother.

International fame

When Gama reached London, he issued an open challenge to all European wrestlers, claiming that he would defeat any wrestler, of any weight category who dared to fight him within 30 minutes. Before indulging in any fights, Gama said that he would either defeat the men or hand over the prize money and return to his homeland, he explains.




With the stakes so very high and the interests of a few piqued, he first stepped into the wrestling ring with American wrestler Benjamin Roller. The fight lasted for a total of 40 seconds and Gama emerged victorious.

The very next day, Gama defeated an additional 12 wrestlers and made headlines in the world of international wrestling. Intrigued by the situation, the world heavyweight champion at the time, Stanislaus Zbyszko, accepted Gama's challenge.

The two met in the wrestling ring on September 10, 1910. The fight lasted for a total of two-and-a-half hours but was declared a tie. The fight was then rescheduled for a week later on September 17. However, Stanislaus Zbyszko never showed, and Gama won the match and the John Bull belt by default.




Seventeen years later, Stanislaus Zbyszko challenged Gama to another match in Patiala. The match lasted a total of 40 seconds, with Gama taking the win.

"The golden rule of wrestling is that whoever deviates from the principles of the sport will never be successful," Bholu says.

After returning to the country, he fought Raheem Baksh Sultaniwala again. This time around, Gama emerged victorious and earned himself the title of Rustam-e-Hind.

After returning home with his international accolades, Gama was welcomed by a throng of supporters.

In the middle of one of such gatherings, an elder in the wrestling world told Gama to go and fill the bowl of his hookah. Without delay, Gama rushed to refill the bowl leaving the gathering behind. However, the elder asked him to take a seat and forget about the hookah bowl. The entire purpose of this was to see whether his international fame had gotten to his head, explains Bholu.

A big constitution

Gama's daily diet consisted of 15 litres of milk, three kilogrammes of butter, mutton, 20 pounds of almonds and three baskets of fruits. All of Gama's dietary expenses were personally borne by the Maharaja of Patiala.

Fighting 40 wrestlers, doing 5,000 sit-ups and 3,000 push-ups was a part of his daily training, Bholu said.

After partition, Gama moved to Lahore with his family where he fell on hard times. He made a request to the governor general at the time, Khawaja Nazimuddin, for the government to support his dietary needs. In return, he promised to win wrestling titles for Pakistan.

Unfortunately, the governor general backed out when he learnt about the extent of Gama's diet and forwarded the matter to other officials.




There is no doubt that Gama was a great asset to Pakistan. However, he spent the last remaining years of his life in tough financial times. In order to manage household affairs, he was forced to sell off his wrestling titles and trophies.

A fan of the wrestler used to given him a stipend of Rs2,000. In comparison, his pension from the government was Rs300. When he eventually fell ill, the government did not show much interest in his treatment. Therefore, after a long and illustrious wrestling career, Gama passed away at the age of 82.

Published in The Express Tribune, May 23rd, 2019.
COMMENTS
Comments are moderated and generally will be posted if they are on-topic and not abusive.
For more information, please see our Comments FAQ