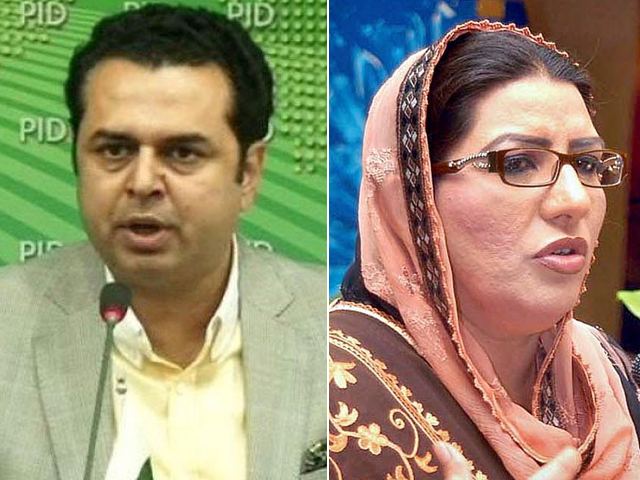 ---
Another day, another politician making a sexist remark.

The latest politician to come under fire for a misogynistic comment is PML-N leader, Talal Chaudhry. In a video that went viral on social media, he is seen making inappropriate comments about Special Assistant to PM on Information Firdous Ashiq Awan.

Taking a jibe at the current political scenario, Chaudhry compared the 'ongoing tabdeeli' to facial features of the PTI politician.

PPP urges PM Imran to retract sexist remarks against Bilawal

"This is the kind of tabdeeli ... if Baji Firdous Ashiq Awan got her face washed, the way her real looks would emerge from behind her makeup... she would appear as Firdous Khan instead. This is also the real face of this tabdeeli," the politician said while talking to a reporter.


Absolutely distasteful comment by Talal Ch. @Dr_FirdousPTI deserves the highest level of respect being a female politician. pic.twitter.com/LF1Cuin80N

— Mansoor Ali Khan (@_Mansoor_Ali) May 21, 2019


Chaudhry's comments caused an uproar and many slammed the politician for making insensitive remarks about stateswoman.


Condemnable statement by a sick misogynist mindset - that is PMLN's Talal. https://t.co/lcU0Q4HJhy

— Shireen Mazari (@ShireenMazari1) May 21, 2019
Firdous Ashiq Awan is strong, independent and confident. Such gendered insults are made by men like Talal Chaudhry because they are uncomfortable with women in power. https://t.co/675k2QDkOL

— Benazir Shah (@Benazir_Shah) May 21, 2019
Talal Chaudhry's disgusting comment about Minister Firdous Ashiq Awan is just another example of the filth many PML-N leaders and social media warriors constantly throw on women.

Even women do it to women, and many women endorse and applaud that filth. It's the norm on Twitter.

— Mehr Tarar (@MehrTarar) May 21, 2019
Statement of Talal Chaudhry targeting @Dr_FirdousPTI is sexist, misogynistic and lewd. Calls for a public apology from his side. If this is how an Ex-State Interior Minister behaves then God help Pakistan. SC judgment disqualifying him appears to be right. #TalalChaudhary pic.twitter.com/nGaFJRbK1u

— Pansota (@Pansota1) May 21, 2019
Men like Talal Chaudhry will always resort to making jabs on gender. Go home bhai sb, this is 2019. Wake up and smell the hummus. https://t.co/q45ce0mle5

— Alia Chughtai (@AliaChughtai) May 22, 2019
Pakistani politicians hit a new low each time they are asked to comment on their rival's politics. Shame on Talal Chaudhry for using cheep words for Firdous Ashiq Awan. #respectwomen pic.twitter.com/S5DTgMZb1W

— Muhammad Atif Rajput (@AtifVOA) May 21, 2019
Talal Ch never lets us down in showing that he is absolutely classless. He keeps reminding us of his upbringing & where he comes from..clearly when one thinks of him the word 'gutter' comes to mind.

— Sayed Z Bukhari (@sayedzbukhari) May 22, 2019


https://twitter.com/always_opposed/status/1130915548450250752


Just shame??? He should be not only permanently banned from politics but also his party leader and mentor @MaryamNSharif a female herself must offer unconditional apology for his shameful remarks. Plus all TV channels must boycott him. https://t.co/d7BHqam0Ml

— Khawar Ghumman (@Ghummans) May 21, 2019
Shame on you TC! That's all you are known for! Terrible, terrible! https://t.co/tT2MYiuAVR

— Ajmal Jami (@ajmaljami) May 21, 2019


https://twitter.com/shaistajaved89/status/1131112149072453633


Foul comments by Talal Ch against Firdous Ashiq Awan. Apologise he should and take his comments back. Waiting to see what PMLN says and does about it....

— Gharidah Farooqi (@GFarooqi) May 21, 2019


This, however, isn't the first time a misogynistic comment on a fellow female politician has been made.

Have something to add to the story? Share it in the comments below.