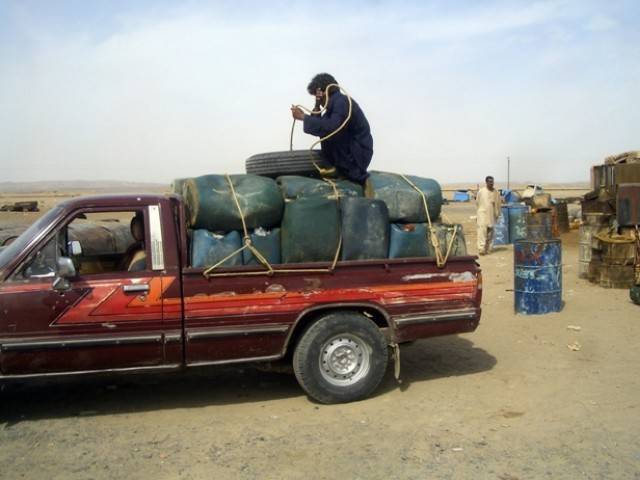 ---
ISLAMABAD: Pakistan faced an annual loss of Rs60 billion because of oil smuggling from Iran, a parliamentary panel was informed on Tuesday.

Senator Mohsin Aziz, while chairing a meeting of the Senate Standing Committee on Petroleum, said the smuggling of petroleum products had increased and the government was suffering an annual loss of Rs60 billion due to smuggling of Iranian oil.

Senator Jehanzeb Jamaldini said people living near the border had no other business and therefore it was difficult to control smuggling. "If you stop them from smuggling, they could carry guns," he warned. He suggested that Pakistan State Oil (PSO) should relax the policy of setting up retail outlets in Balochistan.

Quetta's MCC conduct crackdown against fuel smugglers

Jamaldini said Iran wanted trade relations with Pakistan and setting up of retail outlets for petroleum products would help stop oil smuggling. Efforts should be made to set up Pak-Iran joint markets, he said. Senator Bahramand Khan alleged that government officials were also involved in the business. Senator General (Retired) Salahudhin said every border had the issue of smuggling, but it should be stopped when its volume increased.

Senator Mir Kabeer Shahi said people from the low-income group were involved in smuggling, but it would stop if the people were given employment opportunities. During the meeting, different initiatives were discussed to control the smuggling of petroleum products through the Pak-Iran border.

DIG Frontier Corps Balochistan Brigadier Rizwan said Balochistan had a long border with Iran and it was the responsibility of the Customs officials to stop smuggling. "FC provides only security," he said, adding that there was no petroleum retail outlet on the 2,000km-long road. He suggested the setting up of retail outlets of petroleum products on the road to control smuggling.

Customs officials revealed that one official was deployed in an area of 1,119 kilometres. They suggested that an operational policy and legislation should be prepared to end the smuggling of Iranian oil.

Oil slips to $71, hit by talk of higher OPEC+ output

They said they had given a proposal of setting up a border task force. The committee recommended more deployment of Frontier Corps personnel and Customs officials to stop smuggling. Moreover, officials of the Oil and Gas Regulatory Authority (Ogra) said motorbikes used 45% of petrol and that a proposal was being considered to introduce 80 and 82 RON petrol again for motorbikes in the country.

Published in The Express Tribune, May 22nd, 2019.

Like Business on Facebook, follow @TribuneBiz on Twitter to stay informed and join in the conversation.