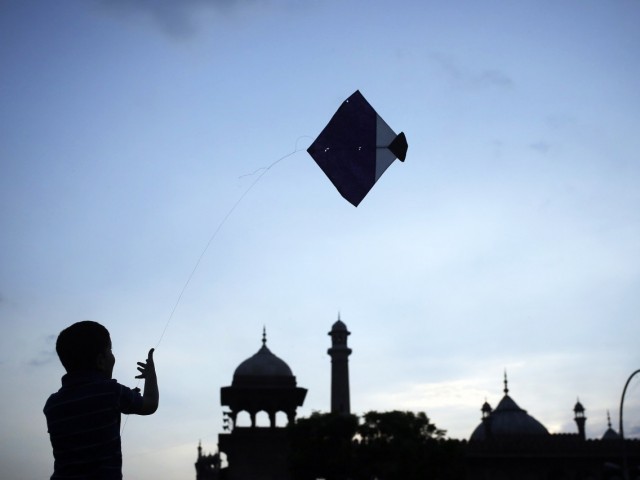 ---
LAHORE: Lahore police have tightened the noose around kite fliers by using drone cameras to locate and arrest them.

Since last night, the police started cracking down on rooftop kite flyers by locking in on them from camera-fitted drones which fly throughout the day and night.

DIG Operations Ashfaq Khan told The Express Tribune that a complete crackdown was being conducted against the kite flyers in the provincial capital.

Khan shared that the police received complaints that people fly kites in different areas of the city even at night. Therefore, a special squad was formed and armed with drone to catch the offenders.

Authorities intensify crackdown on kite flying

Police mobile units have also been provided stairs to climb rooftops so that they take the kite-flyers into custody, he said. Khan added that police have received information in Ramazan that people fly kites along the Ravi River after Fajr prayers. Therefore, senior officials directed police stations to form teams, which would be dressed in civvies, to arrest the kite-flyers.

This year Lahore police have registered 2,976 cases against kite flyers during the crackdown so far. Around 3,195 suspects were arrested, while 36,939 kites and 3,866 string rolls were recovered from their possession.

At the same time, during raids conducted on a tip-off, kite makers were also arrested from manufacturing units set up in their houses. These kite makers have revealed that they used to prepare kites and supply their product to Punjab.

DIG operations appealed to parents to keep an eye on their children and report kite sellers so that precious lives could be saved through timely action.

Meanwhile, according to rescue and hospital sources, 23 people were injured due to kite strings in Kot Lakhpat, Lorry Ada, Walton Road and Shahdara Town in 2019. Most of them suffered injuries while riding motorcycles.

The previous Pakistan Muslim League-Nawaz (PML-N) government and current regime expressed a zero-tolerance policy towards kite flying. Former chief minister Shehbaz Sharif was no stranger to suspending area officers if a kite flying incident was reported from a locality. He also suspended senior officers, including the DSP and SP, in the case of injury to three-year-old Mahrukh in Shera Kot. Dozens of SHOs were suspended over their failure to control kite flying throughout Punjab.

After taking charge, Punjab Chief Minister Usman Buzdar has also repeatedly issued instructions to show a zero-tolerance policy towards the matter.

Kite flying: when festivity leads to fatality

For over a decade, the government banned the hobby after wires damaged by kites caused power breakdowns and there were reports of locals' throats being slit by strings.

The injuries and fatalities started occurring when a new form of kite string, using metal and refined plastic coated with chemicals, was introduced in the market. The metal kite string, after coming into contact with electric wires, would cause sparks and lead to power outages. Also, kite string, using plastic coating, would act likes a clothesline and knock bikers off their two-wheelers.

Published in The Express Tribune, May 19th, 2019.
COMMENTS
Comments are moderated and generally will be posted if they are on-topic and not abusive.
For more information, please see our Comments FAQ