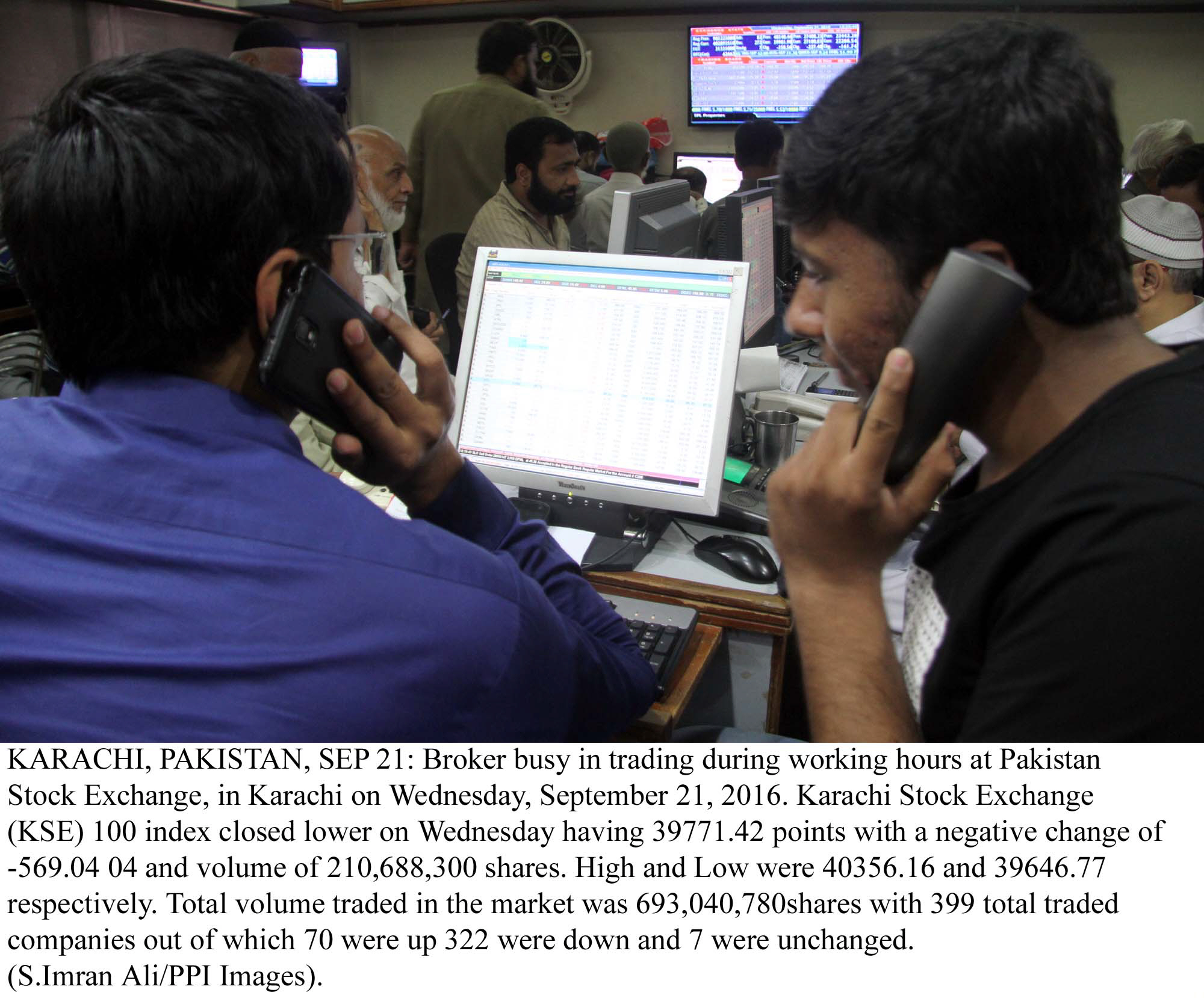 ---
KARACHI: Stocks continued to receive a hammering on Monday as the KSE-100 index nosedived over 900 points in intra-day trading following the signing of an International Monetary Fund (IMF) loan programme.

The finalisation of a stringent IMF bailout sparked massive institutional selling at the bourse. The Pakistan Stock Exchange's (PSX) benchmark KSE-100 index dropped more than 900 points to hit a three-year low below 34,000 points in intra-day trading.

"The IMF's stringent loan programme worth $6 billion triggered extensive selling at the PSX," Topline Securities' analyst Nabeel Khursheed told The Express Tribune.

The harsh programme would impact earnings of the companies listed at the PSX, he said. "It's institutional selling."

Khursheed said the 39-month loan programme carried tough conditions like further increasing the key interest rate massively. Moreover, market forces would determine the rupee-dollar exchange rate under the programme. That condition could lead to a sharp depreciation of the rupee and unleash a new wave of inflation in the country, he cautioned.

Besides, the loan programme also called for revising the energy tariffs upwards.

A trader at IGI Finex Securities added that banks were offering comparatively much higher rate of return on fixed deposits than the stock market these days. "Why would investors prefer to stay in a falling stock market," he asked.

Selling was witnessed in stocks across the board as investors opted to book profits. At the end of trading, the benchmark KSE 100-share Index recorded a decrease of 816.15 points, or 2.35%, to settle at 33,900.38.

JS Global analyst Maaz Mulla said the PSX kicked off trading in the positive zone, hitting the day's high of 511 points on early excitement over Pakistan reaching a deal with the International Monetary Fund (IMF) on a 39-month Extended Fund Facility (EFF) of $6 billion.

"However, this positivity couldn't last long as the market came under pressure from likely redemptions in mutual funds, hitting an intra-day low of 937 points to close at 33,900," the analyst said.

Major contribution to the declining index came from Fauji Fertiliser Company (-5%), Oil and Gas Development Company (OGDC, -2.7%), Pakistan Oilfields Limited (POL, -4.4%), Engro (-2%) and Pakistan Petroleum Limited (PPL, -2%).

There was across-the-board selling pressure, however, the broader damage was done by cement and exploration and production (E&P) stocks.

DG Khan Cement (-5%), Pioneer Cement (-5%), Maple Leaf Cement (-5%), Cherat Cement (-5%), Lucky Cement (-2.1%), OGDC (-2.7%), POL (-4.4%) and PPL (-2%) were major laggards of the aforementioned sectors.

"Moving forward, we expect the market to remain negative on the back of worrying economic indicators. Hence, we recommend investors to remain cautious in trading," Mulla said.

AHL Research, in its report, stated the KSE-100 index saw a major drop of 937 points after Pakistan entered into an IMF programme.

The trading session commenced on a positive note and the market at first rose 511 points before plunging. The last half hour of trading showed some buying activity.

"Stocks, all and sundry, became the target of investors' wrath. Besides conclusion of the IMF programme talks, the market was also faced with the MSCI review that had negative implications for the stocks that form part of the MSCI EM Index."

Several stocks hit their lower circuits, important among those were SSGC, Maple Leaf Cement, Pioneer Cement, DG Khan Cement, Ghandhara Industries, etc. The banking sector relatively remained unscathed and stocks like MCB Bank, HBL, UBL and Meezan Bank traded in the green zone.

Overall, trading volumes increased to 121.2 million shares compared with Friday's tally of 39.3 million. The value of shares traded during the day was Rs5.3 billion.

Shares of 336 companies were traded. At the end of the day, 36 stocks closed higher, 287 declined and 13 remained unchanged.

K-Electric was the volume leader with 9.8 million shares, losing Rs0.24 to close at Rs3.98. It was followed by Maple Leaf Cement with 7.1 million shares, losing Rs1.21 to close at Rs23.08 and The Bank of Punjab XD with 6.9 million shares, losing Rs0.77 to close at Rs10.94.

Foreign institutional investors were net buyers of Rs977.1 million worth of shares during the trading session, according to data compiled by the National Clearing Company of Pakistan.