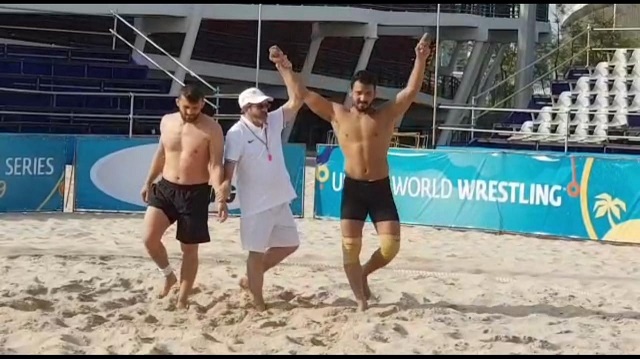 ---
KARACHI: Muhammad Inam Butt became the first Pakistani to qualify for the World Beach Games as he finished second with a silver medal at the Beach Wrestling World Series in Rio de Janeiro on May 11 in the 90 kg event.

Inam had an impressive run at the series as he defeated Turkey's Ozkan Murat 3-0 in the first round, then overcame Azerbaijan's Kanan Alyev 1-0 and went on to the quarterfinal of his group to fight against Brazil's Wanderson Messias Da Silva 4-0.

He outclassed Grigorios Kriaridis 3-0 in the semi-final, but lost in the final to Georgia's Dato Marsagishvili 2-0, a decision he deems controversial.

"I'm thankful to all who supported, but the decision was controversial as I was told before the fight that a tactic through the knee is allowed, but when I applied it, they ruled it against me," Inam sent out a message to the press after the fight in the wee hours on May 12.

"I'm happy with the silver medal too, but we have registered a complaint with the United World Wrestling on this, and they have apologised to me on this. The key is that I have qualified for the World Games that will take place in San Diego in October. I'm happy."

Inam's road to Brazil was not easy, as he was out of funds, but arranged them just in time to fly out on May 8.

He had been looking to qualify for the World Beach Games since last year, when he became the World Beach Wrestling Champion for the second time in a row, another feat that was a first for any Pakistani.

The 2010 and 2018 Commonwealth Games gold medallist was forced to miss out on the Asian Championship last month in China due to the lack of funds.

He had said that in order to qualify for the Olympics he needs help from the government, and sponsors and a training camp abroad.

Meanwhile, the night before the final in Brazil he said that he was confident in his abilities.

"i'm happy, the event isn't easy there are Olympic medallist in the competition but I'm giving my best, I know I can win this," he said, before the fateful final with an Olympic bronze medallist the next day.

Inam is hoping for all the help he can get and continued support from people, as he is sets his eyes on World Beach Games.
COMMENTS
Comments are moderated and generally will be posted if they are on-topic and not abusive.
For more information, please see our Comments FAQ