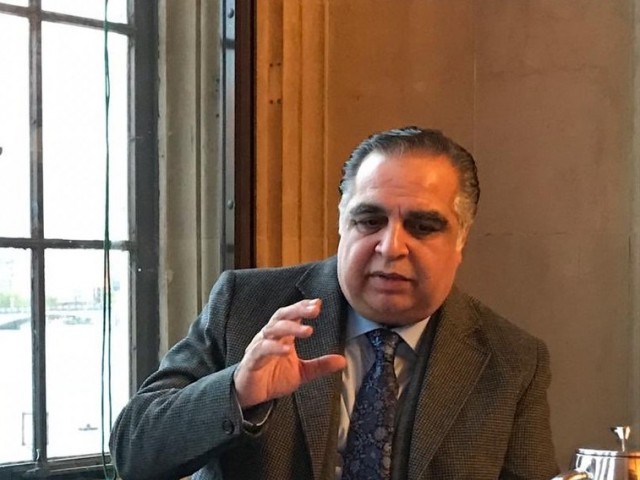 ---
HYDERABAD/ KARACHI: Sindh Governor Imran Ismail's statement about dividing Sindh into administrative units has drawn condemnation from nationalist parties and disavowal from Pakistan Tehreek-e-Insaaf (PTI) who made him the province's governor.

"A conflict is being created between Sindhis and Urdu speaking people," said Syed Jalal Mehmood Shah, President of Sindh United Party.

He believed that the province could not be divided until the Sindh Assembly approved a proposal in this regard which is very unlikely to happen. "But if the assembly began to discuss it then we will see to it." Shah saw a conspiracy, and political schemes of both Pakistan Peoples Party (PPP) and Muttahida Qaumi Movement-Pakistan (MQM-P) in recurrently stirring the controversy.

Awami Tehreek President Advocate Sajjad Chandio said the responsibility of the governor is to represent the Centre and that he is not supposed to indulge in politics. "By speaking about Sindh's division, Ismail has made himself controversial for the post which is a non-partisan position." Chandio demanded the removal of Ismail and his replacement with an impartial governor.

Grand Democratic Alliance General Secretary Ayaz Latif Palijo demanded that the Senate and the National Assembly should legislate that any individual or party which tries to partition Sindh will be charged with treason under Article VI of the Constitution. "Ismail should act like a governor. We won't tolerate him if he speaks as the spokesman of Altaf Hussain." Palijo said Karachi is the heart of Sindh which can never be separated from the body.

Sindh governor fined for violating traffic rules

Meanwhile, in a tweet on Wednesday, Ismail claimed that his words were taken out of context. The governor maintained that he believes in public friendly governance and that "[the issue of] unity of Sindh was reflected in the prime minister's activities and the manifesto of the party." He added that Sindh was his motherland to which he owed his status. The governor ended his tweet with "Jeevay Sindh, Jeevay Pakistan [long live Sindh, long live Pakistan]"

PTI Sindh's acting president, MPA Haleem Adil Sheikh said Prime Minister Imran Khan has stated many times the party's position that PTI does not want to divide the province of Sindh. "PTI is not responsible for someone's personal opinion." He contended that the governor has clarified that he was being quoted out of context. Sheikh also distanced his party from PTI's parliamentary ally, MQM-P which holds a position in favour of a new province within Sindh.

Vehemently opposed

"Ismail is representing a separatist political party," said Vishnu Mal, President of the Awami Jamhori Party. He contended that without PTI's backing, MQM-P Convener Khalid Maqbool Siddiqui could never have given the statement that Sindh practicality stood divided in two provinces. He blamed PM Khan for allegedly being part of the scheme for the division of Sindh.

Ameer Azad Panhwar, Vice Chairperson of Jeay Sindh Qaumi Mahaz, said the PTI and MQM-P were again trying to provoke ethnic confrontation in Sindh. Civil society activist and writer, Jami Chandio, also reiterated the demand for removal of Ismail who he argued echoed the political clamour of MQM-P which was unbecoming of his office. "Ismail seems to be a racist person who has no right to remain Sindh's governor."

Meanwhile Adviser to Sindh Chief Minister on Information, Law and Anti-Corruption Barrister Murtaza Wahab, who is also the spokesperson of the Sindh government, said that Sindh Assembly had given a clear message to those dreaming of a Sindh's division. He advised Ismail to refrain from such political statements.

Speaking to the media in Karachi on Wednesday, Wahab added that the office of the governor was a constitutional position and Ismail should adhere to the constitutional limits of his position.

He said that the statement of the governor was an unsuccessful attempt to divert attention from the poor performance of the federal government and its failed policies. "The civil society in Sindh has reacted strongly to his statement. The governor should read the writing on the wall."

Published in The Express Tribune, May 9th, 2019.