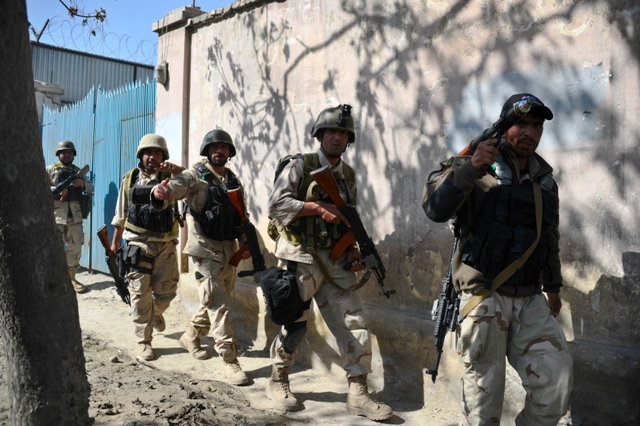 ---
KABUL: At least 20 people were injured after a Taliban suicide bomber drove an explosives-packed Humvee and blew himself up at the police headquarters in the northern Afghan city of Pul-e-Khumri, Afghan officials and the Taliban said on Sunday.

Many armed Taliban fighters entered the police headquarters after the blast and opened fire on security forces stationed there. "Clashes have not stopped. 20 injured people were taken to the hospital from the blast site," said Assadullah Shahbaz, a member of the Baghlan provincial council, adding they have sought immediate deployment from neighboring provinces.

The Taliban claimed responsibility for the "big blast" and the clashes with the Afghan forces. "Several other Taliban fighters are presently clashing with the Afghan forces," Taliban spokesman Zabihullah Mujahid said.

Nasrat Rahimi, a spokesman at the interior ministry in Kabul, said the Afghan forces have gunned down a Taliban fighter who tried to enter the police headquarters, but several Taliban fighters have penetrated the offices.

The Taliban have stepped up attacks on security installations to demoralise Afghan police and troops even as they are holding direct talks with US officials to end the war in Afghanistan.



The attack comes days after the Taliban urged US special peace envoy Zalmay Khalilzad to stop calling on them to lay down their arms and convince the United States to end the use of force instead.

Taliban spokesman Zabihullah Mujahid issued a series of sharp tweets in response to Khalilzad's tweet that called on the Taliban to "put down arms, stop the violence, & embrace peace".

"@US4AfghanPeace (Khalilzad's twitter handle) should forget about the idea of us putting down our arms," he said.

"Instead of such fantasies, he should drive the idea home (to the US) about ending the use of force and incurring further human and financial losses for the decaying Kabul administration."

He said the United States must stop repeating failed strategies while expecting different outcomes.

"It would be better if @US4AfghanPeace musters the courage to call a spade a spade, not a gardening tool & accept the current realities."

Intense fighting continues across the country with the Taliban controlling or influencing more territory than at any point since their ouster at the hands of US-led troops following September 11, 2001, attacks on the United States.

The United States has about 14,000 troops in Afghanistan as part of a NATO-led mission, known as Resolute Support, that is training and assisting the Afghan government's security forces in their battle against Taliban fighters and extremist groups such as the militant Islamic State (IS) group and al Qaeda.
COMMENTS
Comments are moderated and generally will be posted if they are on-topic and not abusive.
For more information, please see our Comments FAQ