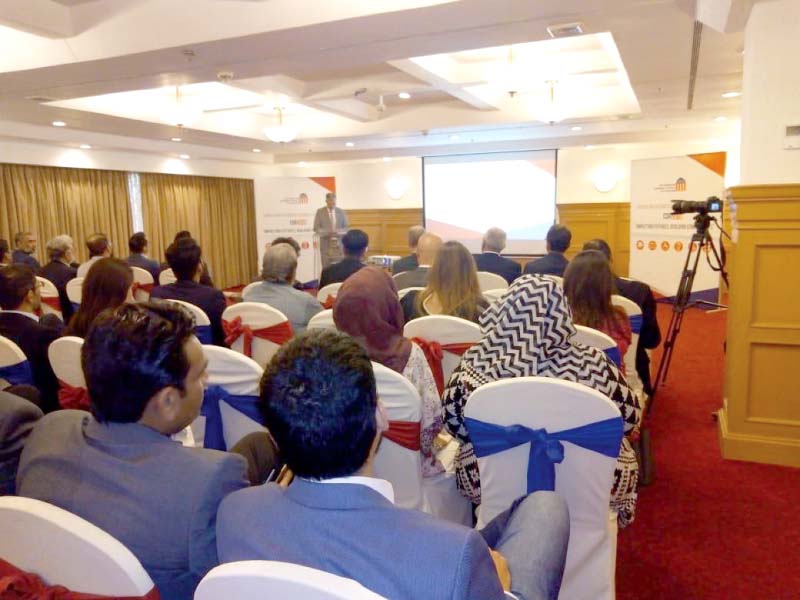 ---
KARACHI: The American Business Council of Pakistan (ABCP) issued its first corporate social responsibility report (CSR) on American companies operating in Pakistan on Friday. According to the report, the foreign companies spent Rs570m on social initiatives in 2018 which impacted the lives of around 400,000 people in Pakistan.

Representatives of the companies attended the ceremony organised for the release of the report. Issues such as rehabilitation of persons with disability, environment preservation, education, women empowerment, employment opportunities and the provision of potable water in the country were discussed during the ceremony. Officials of the American Consulate also attended the ceremony.

United States Agency for International Development (USAID) Director Michael Hryshchyshyn said that ABCP's member companies were playing a significant role in strengthening trade ties as well as relations between the people of the two countries. He added that the purpose of having American companies in Pakistan was not just limited to profit generation but the companies aimed to give back to the community as well.




According to Hryshchyshyn, a new record of Pak-American trade was set in 2018 with activity amounting to $6.6 billion. "America is not just the biggest export market for Pakistan but also a source of investment," he said, adding that American companies had invested Rs1.5b in Pakistan in the past 10 years and the member companies of ABCP had paid taxes of over Rs1b in Pakistan in 2018.

Khurram Masood of the iCare Foundation said that the Foundation was working with 80 renowned welfare organisations and institutions to provide health, education, and employment facilities to 300,000 Pakistanis in 2018.

Claudia Manuel of Procter and Gamble (P&G) said that P&G was playing its part for the provision of clean drinking water and gender equality in Pakistan. The company had provided 6,000,000 litres of water which was enough for three months for the use of 5,700,000 people affected by natural disasters. Besides, the company provided education and technical training to 10,000 girls in katchi abadis [slums] of Sindh and provided resources and training for small scale businesses to 50 women in Sialkot.

Shumail Farhat of McDonald's said that the fast food franchise was complying with the idea of a healthy and balanced life and promoted activities relating to health and fitness, education, sports, arts and creative skills. He added that Karachi Unified Football Club, Special Olympics, Shaukat Khanum Memorial Cancer Hospital and Research Centre, SOS village, Darul Sakoon and Phool Patti were working alongside in this regard.

Other companies of the ABCP also spoke about their CSR activities and stressed on development areas in Pakistan that they were working on.

Published in The Express Tribune, May 4th, 2019.
COMMENTS
Comments are moderated and generally will be posted if they are on-topic and not abusive.
For more information, please see our Comments FAQ