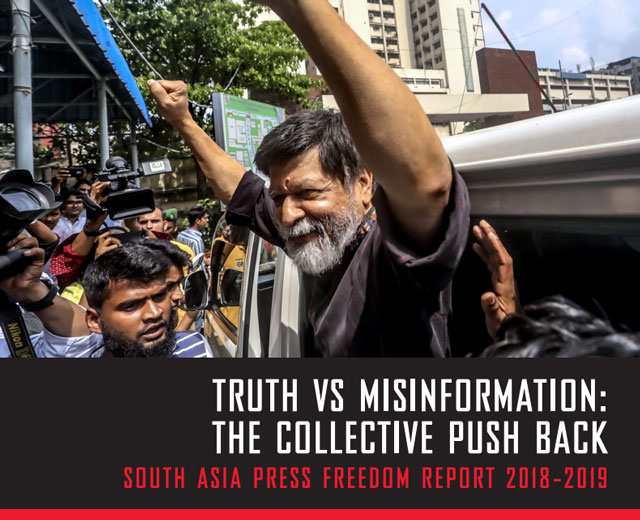 ---
KARACHI: Thousands of journalists and their families are in financial distress as along with undeclared censorship, intimidation and blackout, the Pakistani media is going through a phase of economic insecurity.

While dissenting views were already being perpetually and authoritatively suppressed, to further increase pressure on media houses, the PTI government unleashed a fresh onslaught: it adopted a policy to control the print and electronic media by curbing its advertisement, which is a sheer source of earning for them.

The former information minister, Fawad Chaudhry, also imposed a ban on releasing payments of billions of rupees - the billing for advertisements pertaining to the previous PML-N government - to broadcast and print media owners.

The non-payment of dues led to severe financial crisis in the media industry, and on the pretext of 'losses' media owners then carried out a ruthless retrenchment drive.

According to the International Federation of Journalists' (IFJ) South Asia Press Freedom Report released on Friday, the World Press Freedom Day 2019, Pakistan's media houses laid off nearly 2,000 journalist and non-journalist staff from May 2018 to April 2019.


#WPFD2019 The #IFJ #SAMSN 17th annual review of journalism in South Asia charts the challenges, triumphs and the solidarity of this region's brave and determined media community over the past year. We are proud of our affiliates! ✊ 👏 @ifjasiapacific https://t.co/CxFT0zObbi

— IFJ (@IFJGlobal) May 3, 2019


Besides mass haemorrhaging of journalist jobs, there were drastic pay cuts i.e. salaries slashed from 10 to 40 per cent, delays in salaries, newspaper pages shrunk, editions shelved and above all, some organisations shut down their television channels and newspapers, having had a deep impact on working journalists in Pakistan.




"Those who were fired have been frantically looking for jobs in the saturated market, but those whose salaries were slashed are faced with the dilemma of downsizing their lifestyles," the report says.

"A journalist who was drawing a decent salary and got one of his sons enrolled in an elite cadet college had to withdraw his son from the college due to uncertainty of salaries. Another journalist likened the dire situation to the dark ages when feudal lords would engage 'bonded labour,' in their fields."

The severe job insecurity, the report adds, saw the polarised unions of journalists come together to resist layoffs and pay cuts which were hampering free media voices.

Journalist unions in collaboration with other labour unions staged a spate of sit-ins and protests. And on April 10, 2019, the 8th Wage Board Award announced an interim relief in three slabs ranging from Rs5000 ($35) to Rs8500 ($60) for journalists and other newspapers employees.

The last wage board was announced in 2000.

The board has made it mandatory for the newspapers to pay the interim relief since January else the government advertisement would not be issued to the violating organisation.

However, the key issue is that only few newspapers implement the wage board salaries.

"The arrears of the sixth wage board were still pending and some 300 to 350 employees were awaiting 19-year old dues. Meanwhile, 9th and 10th wage boards are overdue, posing a question on the government's will to address the plight of journalists," reads the report.

The full Pakistan report, which has sections on state intrusion, attacks and silencing by impunity as well, can be accessed here.

The writer is a member of staff. He tweets @WaleedTariq89
COMMENTS
Comments are moderated and generally will be posted if they are on-topic and not abusive.
For more information, please see our Comments FAQ