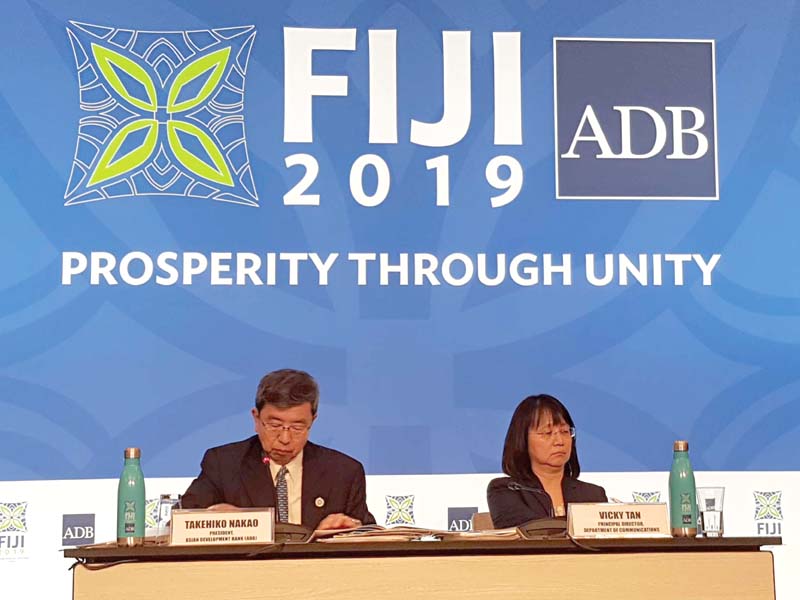 ---
NADI, FIJI: Pakistan's economy is going through tough times and as per the norm the country is back on the International Monetary Fund's (IMF) doorstep. Technical teams of the IMF and Pakistan are locked in negotiations for a bailout package and hope to strike a deal by May 10.

A lot is riding on this package and the Asian Development Bank (ADB) has also hinted at providing budgetary support following an agreement on the IMF programme.

"This time there is a request for budget support of close to $1 billion, in addition to the IMF programme," said ADB President Takehiko Nakao while addressing a press conference at the ADB's 52nd Annual Meeting.

He said Pakistan may witness the restoration of budgetary support, in addition to other loans provided by the ADB.

Pakistan's budgetary support has remained suspended for the past over two years due to the deterioration of macroeconomic conditions. The Manila-based lending agency requires a Letter of Comfort from the IMF to accept the request.

"If there is a programme, we are very happy to provide budget support and loans, quite soon and another one can be a step further."

Highlighting that the lending agency has very large operations in Pakistan, the ADB president said he had met with Pakistani authorities in April and had also had ministerial-level meeting in Fiji.

"We are ready to support Pakistan based on IMF discussions and we are closely talking with IMF authorities about the progress," Nakao added.

After reaching an agreement with the IMF, several avenues are expected to open for cheap financing for Pakistan in terms of borrowing from international lenders including the World Bank and ADB. The programme will enhance the country's credibility in the eyes of international lenders.

Pakistan is looking to finalise a $6.5-billion loan programme with the IMF, spanning over three years as without IMF umbrella, the country's external-sector position remains largely fragile.

Pakistan has got 12 IMF bailout packages since the late 1980s, with the last one being in September 2013.

"Pakistan has already requested the IMF for balance of payments support and they will have to repay these IMF loans too," said the ADB president. Recently, the IMF projected external debt payment for Pakistan at $27 billion, which would mature in the next two years, pushing the country into tough negotiations with the IMF.

Although the bailout packages avert immediate balance of payments crisis, the country has to compromise its economic sovereignty due to repeated visits by the international lender.

Talking about Pakistan's repeated return to the IMF, the ADB president said, "Pakistan has repeatedly visited the IMF for balance of payments support. They must repay the IMF, and then need some new programme."

The ADB president was of the view that repeated visits were not a good approach and there was a need to be stable in terms of balance of payments and fiscal issues.

However, Nakao was optimistic about the growth prospects and remarked, "Pakistan has a great opportunity if macroeconomic stability is restored and if issues of security are addressed."

Pakistan's debt sustainability

Pakistan has exceeded its limit of 60% debt-to-GDP ratio, which raises red flags for the country's economy. In an effort to control the ballooning debt, the government is working on three strategies including a non-interest current account surplus, maturity transformation and concessionary credit.

Speaking at a seminar titled 'Is Debt Sustainability a Cause of Concern' at the ADB's 52nd Annual Meeting, Adviser to PM on Austerity Ishrat Husain said, "Pakistan's legislature passed the Fiscal Responsibility and Debt Limitation Act, where the country had a ceiling of 60% of GDP for the external and domestic debt. But today, we have reached 72% of that.

"We are in breach of the law," the adviser remarked.

"We want maturity transformation towards medium and long-term loans as short-term loans have too much risk responsiveness to the external economic environment," he said.

The focus is also on concessionary credit. "We are talking to countries like Japan that used to be one of our single largest bilateral creditors and supported us through building infrastructure and a lot of development, but they have not done that for quite a long time," the adviser said. He also shared with the audience that the government was trying to generate non-interest current account surplus by increasing exports, remittances and concessionary flows.

Mobilising foreign direct investment (FDI) to augment foreign exchange earnings and accumulating foreign exchange reserves, which are a cushion for debt risks, are also points of key focus, he added.

The PM aide said to contain the fiscal deficit, "we have to cut down our development budget, which is on infrastructure, human resources and poverty alleviation projects". 

Published in The Express Tribune, May 3rd, 2019.

Like Business on Facebook, follow @TribuneBiz on Twitter to stay informed and join in the conversation.