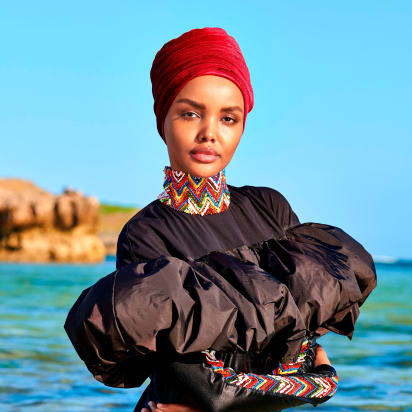 ---
Muslim women continue to break barriers in the fashion world, as Somali-American model Halima Aden becomes the first hijab-clad model to wear a burkini in the annual swimsuit edition of Sports Illustrated magazine.

Sports Illustrated is best known for its racy bikinis but the boundary-breaking Aden wants to show that modest fashion can also have a place in the industry. Her photoshoot is set in Kenya, where she grew up in a refugee camp until the age of seven.




The Muslim beauty looks like a vision in a dark blue burkini, canary yellow drop earrings and a bright turquoise hijab.  She is almost completely covered, posing is shallow water.

"Don't change yourself, change the GAME!" Aden wrote after posting the photo on her Instagram page, which has over 872, 000 followers. She added that the photo shoot is more than being on the cover of Sports Illustrated: it's about sending a message to her community and showing the world that women of different backgrounds can be celebrated too.




This is not the first time Aden has made waves on the fashion front.  In 2016, she became the first fully-covered Muslim contestant to compete in the Miss Minnesota USA pageant, finishing as a semi-finalist. Following that, she received national attention and was signed to the highly lucrative IMG Models agency. From there on, there has been no looking back.

We also can't forget rapper Kanye West cast Aden in his Yeezy fashion show at New York Fashion Week too, garnering huge press coverage for her. More recently, the starlet also become the first woman of colour to wear a hijab on British Vogue and advertised a scarf for global sports giant Nike.




But her fame hasn't come without criticism. Aden recently opened up to Vogue Arabia about facing reservations about her career choice within her community as well as from Americans.

Muslim model loses job for wearing hijab

"It was scary and I definitely did get a little bit of backlash from both the Muslim community and the American community,"she said. But she admitted Muslim in America are gradually warming up to the idea of a hijabi woman on the catwalk. Not to mention, more and more major fashion houses are now including modest attire in their collections than ever before. Head coverings by Marc Jacobs,  babushka-inspired head wraps by Gucci and the noir scarves paired with caps by Dior are just examples of a few.




But Aden still believes the fashion industry has a long way to go towards total inclusivity. So what's next for her? We'll just have to wait and see.

Have something to add to the story? Share it in the comments below.