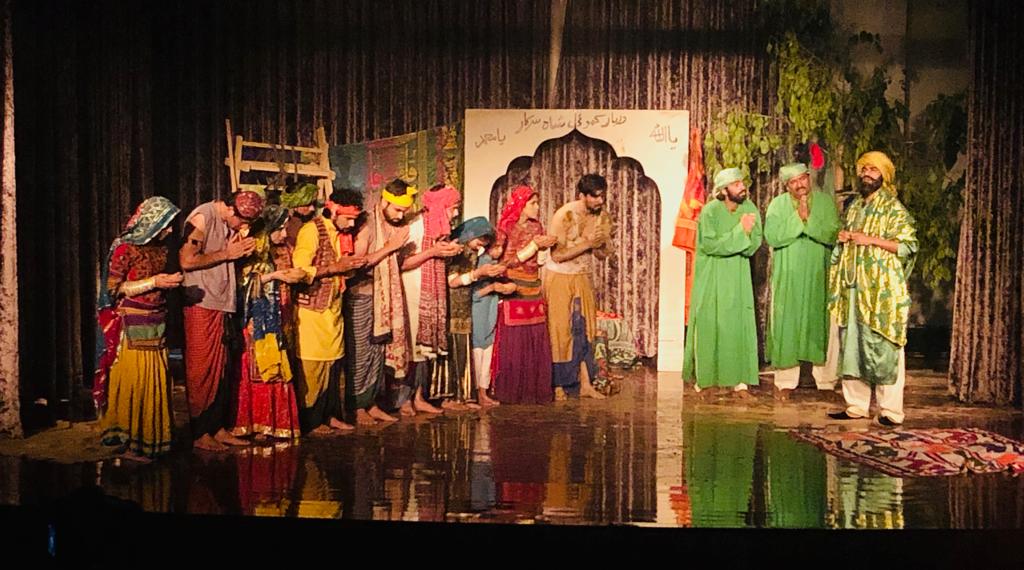 ---
Swanng Theatre, the most ancient theatre in Punjab, was revived in Lahore with a performance of Ajoka Theatre's thought-provoking play Kala Meda Bhes, held at the Institute for Art and Culture (IAC) over the weekend. Written by Shahid Nadeem, the play is based on real life incident that took place in a village in Cholistan wherein a woman was exchanged for an Ox, stated a press release.

The Ajoka team incorporated all the striking facets of the culture of Cholistan to make the play mesmerising and entertaining. Kala Meda Bhes was not just a tale of woes but a tribute to the resilience and determination of the people of Cholistan. It celebrated the rich and dynamic culture of South Punjab with dazzling costumes and delightful songs.




The performance was part a of two-day Cholistan Festival arranged by IAC in order to promote and celebrate the diversity of Pakistan. The gala engrossed the audience with exciting activities including colourful arts and craft exhibitions, folk music performances, poetry recitations, documentary screenings and paper readings on folk traditions of Rohi by leading scholars.

The special feature of the festival was live musical performances by three Cholistani acts, Sitara Lal, Lalo Bheel and the Mithu Varyam group. All the singers energised the audience with the tunes and mystic poetry of the Cholistani desert. The songs comprised of Marwari, Seraiki, Sindhi, Punjabi and other languages.




Prolific speakers and experts like Ashgar Nadeem Syed, IAC Vice Chancellor Prof Sajida Vandal and Imtiaz Lashari participated in a panel discussion about the historic Hakra civilisation of Cholistan entitled 'Imagining Hakra.' A documentary highlighting the wildlife in Cholistan was also screened.

Hassan Ali Sukhera read a paper on bio-diversity of the region, Salman Rashed on the Channan Pir experience, Dr Muzammil Bhatti and Mussarat Kalanchvi presented their work on the women of Cholistan.

On day one, attendees enjoyed thought-provoking presentations and talks on the archaeology of Cholistan, its cultural identity crisis, folk poetry, arts and crafts and the connection between Khawaja Fareed and the Rohi. These were conducted by speakers included Professor Pervez Vandal, Dr Rafique Mughal, Saleem Shehzad, Dr Nasrullah Nasir, Dr Saif ur Rehman Dar and Dr Shahzad Qaiser. Naseem Abbas mesmerised the audience to the Kaafi of Khawaja Ghulam Fareed.




The chief guest of the festival Professor Hassan Amir Shah, Vice Chancellor Government College University, applauded IAC's efforts to celebrated of its diversity. He commended the fact that talks and discussions on Cholistan were now happening in Lahore as well. The Guest of Honour, Senator Waleed Iqbal also stressed upon the need for the promotion of arts and culture, as is done in other countries across the world.

Have something to add to the story? Share it in the comments below.