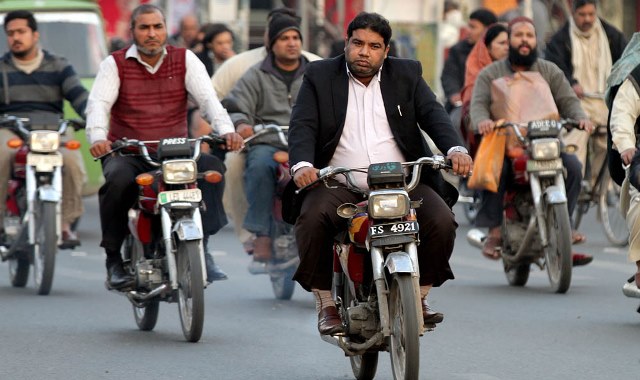 ---
Being a Pakistani, we're well aware of the worsening traffic conditions in our country. A task as simple as going to and from the office would take you at least an hour on average, considering the deadly traffic this country has to offer. This leads to inevitable frustration amongst citizens and in order to rush to their respective destinations on time, they often end up over-speeding, contributing to hundreds of road accidents on a daily basis, most of them being fatal.




Jinnah Post Graduate Medical Centre caters to almost 150 people each day for the treatment of motorbike-related injuries. Despite all the efforts made by the Traffic Police to promote safe driving, most people are careless about significant components like a brake light, headlight, indicators and even side mirrors, which seem to be missing from their motorbikes. Habitual of ignoring these major factors, people end up paying no heed to changing tyres or using good-quality tyres that give you a safer grip in times like these.




Globally, Pakistan is considered to be amongst countries that have a high percentage of road traffic accident deaths each year. Most often these accidents occur due to untrained/minor drivers, holding a driver's license they've acquired through improper means. With this careless behaviour, they not only put their life at risk, but also the lives of others driving alongside. Researchers have found that Punjab experiences the highest road accident deaths, followed by Sindh, KPK and Balochistan.


In recent times, we have seen an advent in road accidents, and while the scarce use of helmets may be one of the reasons, substandard motorbike components are definitely the bigger culprit. Ensuring road safety is a basic measure that one should take before hitting the road and this would be incomplete without good-quality Servis tyres that assure a powerful grip.

In a developing country like ours, where most people live below the poverty line, a motorbike is an affordable mode of transportation. More often than not, we see big families squeezed together on a single motorbike, putting them at risk and even more so if they don't have reliable tyres installed.




We asked one of such people about how often they change their tyres, and they replied in a shocking tone, "Why would I change them if they haven't burst yet?".

Another person, when questioned over no side mirrors on his motorbike said, "Why do I need side mirrors when I can just turn my neck around and see?" To conclude our survey, we asked another man about what he looks for while purchasing a tyre and he said, "The price, for sure. It doesn't matter which one it is as long as it's cheap!" For most people who are buying tyres, the price always triumphs over the quality, which is a saddening truth about the risk a person is willing to take only for a few rupees.




Good tyres are like good friends that will always have your back in times of need. Be it short rides or longer journeys, investing in a good pair of tyres will always prove to be beneficial for people who are frequent motorbike travellers.

It's time we all take up this vital cause and play our part in improving road safety in Pakistan. Increasing awareness about the importance of changing motor vehicle tyres is required because this practice will not only diminish daily road accidents, but also help portray a more positive image of Pakistan


COMMENTS
Comments are moderated and generally will be posted if they are on-topic and not abusive.
For more information, please see our Comments FAQ