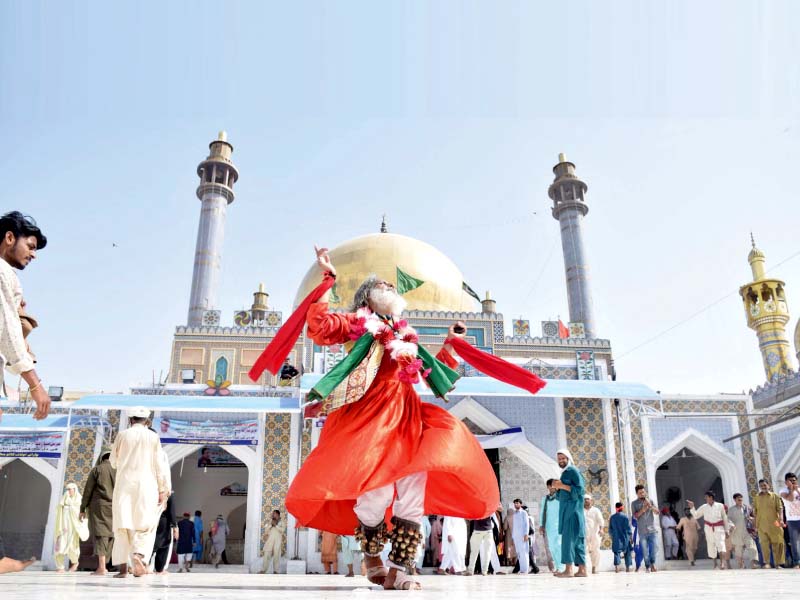 ---
HYDERABAD: Triumphing the looming threat of terrorism and the sweltering heat, hundreds of thousands of devotees thronged the small town of Sehwan, Jamshoro, on Wednesday to celebrate 767th Urs of Lal Shahbaz Qalandar.

The three-day festivities officially started after inauguration by Sindh Governor Imran Ismail who arrived several hours after the scheduled time.

According to estimates of Jamshoro district's Deputy Commissioner Capt (r) Fariduddin Mustafa, between 2.5 million to 3m people are expected to visit Sehwan, the population of which is around 100,000 people, during the three days. While the blazing sun tested the dedication of devotees, the security arrangements made people walk for kilometres as vehicles were not allowed entry into the town.

Bahauddin Zakariya's three-day Urs celebrations begin

"Our devotion for Qalandar overshadows harsh weather conditions or any law and order situation," said Haider Qureshi, a resident of Multan. He, like a multitude of other devotees, waded through the narrow streets of the town to reach the shrine to offer prayers and later indulge in dance and music when the dhamal starts after sunset.

The government organised events over the three days featuring Sugharan Jee Katchery [conversation of folks], an international Adabi [literary] Conference, musical concerts, agro-industrial exhibition, Malakhro [wrestling] and cattle shows. The town bore a festive look and the shrine and its golden dome were illuminated with colourful lights.




The legend

Qalandar, whose name was Syed Usman Marvandi (1177-1274), was born in Marvand city of Afghanistan. His ancestors had migrated from Baghdad and Mashhad. However, he settled in Sehwan, Sindh, during the Soomro dynasty (1024-1351) which is considered a remarkable period in Sindh's history when education and culture developed and produced great characters in society.

He was a contemporary of Bahauddin Zakariya, Makhdoom Jahanian of Uch Sharif and other sufi saints. The saint was also a known philosopher and poet of his time and is said to be fluent in Persian, Turkish, Sanskrit, Arabic and Sindhi languages.

The legends attribute miraculous powers to Qalandar. According to one such folk tale, Qalandar's favourite disciple, Bodla Bahar, overturned the fort in Sehwan after the rulers ordered Bahar's execution. "His miracles happen till today. We believe when we pray at the shrine, our wishes come true and our worries blow away," said Sadia Inam.

Qalandar's shrine, despite being located in a remote area, attracts devotees from all parts of the country mainly from Punjab as well as Hindu followers from India. According to the Edhi Foundation, 10 people died natural deaths in Sehwan on Tuesday and Wednesday and all of them belonged to Punjab's cities including Faisalabad, Gujarat, Khanewal, Shujabad, Attock and Dera Ismail Khan.

"I feel blessed to be inaugurating the Urs," said the governor, who explained that the reason for his belated arrival was traffic on the M9 Motorway and Indus Highway on which he traveled to reach Sehwan.

Security arrangements

Jamshoro SSP Touqeer Muhammad Naeem informed that 5,000 policemen and 200 personnel of rangers have been deployed for security. He added that the town is being monitored through 500 CCTV cameras besides drone cameras. The town's security has been divided in eight zones overseen by four ASPs and 22 DSPs. A total of three control rooms and a complaint centre with the mobile number, 0311-1087444, have been set up.

Pakistani pilgrims set to leave on Monday to attend Hazrat Amir Khusro's urs in India

The security at the shrine, which hosts one of the largest number of devotees during urs celebration, was beefed up following February 16, 2017 suicide blast at the shrine which left 90 people killed and 317 injured.

DC Mustafa said that water showers have been installed in several places in the town. He claimed that the district administration has arranged one million bottles of water for free distribution among the devotees.

According to him, 62 emergency response centres besides heat stroke centres have been established in Sehwan and on the Indus Highway for which thousands of tents have been pitched up to accommodate 30,000 visitors. The district administration has imposed a ban on swimming in the canals and the movement of heavy goods transport vehicles on Indus Highway.

Published in The Express Tribune, April 25th, 2019.