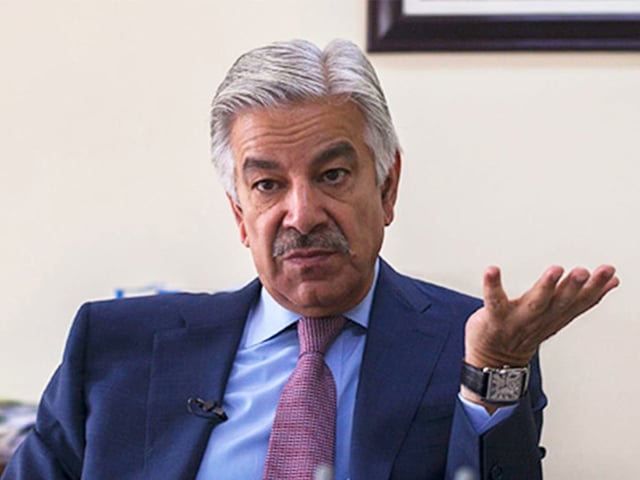 ---
Pakistan Muslim League-Nawaz (PML-N) leader Khawaja Asif was reminded of his own misogynistic remarks by social media users on Wednesday after he fired a broadside at Prime Minister Imran Khan for his sexist statement against  PPP chairman Bilawal Bhutto Zardari.

The premier had called Bilawal 'Sahiba' during an address in South Waziristan earlier in the day.

"I came into power through struggle and hard work unlike Bilawal 'Sahiba' (miss) who, using the will of her mother became the head of political party," he said at the public gathering.

PM Imran passes 'sexist' remarks against Bilawal, calls him 'Sahiba'

Sahiba is a title in Urdu which means miss or madam.

Minutes after the premier's remarks, social media users from different walks of life including Bilawal slammed the prime minister for his statement.

The former defence minister also jumped on the bandwagon, saying, "This is his [PM Imran] real language and reflects his inner self" in a tweet.


This is his real language...reflect his inner self https://t.co/mqLIDoGNFr

— Khawaja M. Asif (@KhawajaMAsif) April 24, 2019


However, the criticism didn't go down well with his social media followers, who showed him the mirror by reminding him of his incautious use of language in the past.

In 2016, Asif had ridiculed Dr Shireen Mazari, the incumbent human rights minister, for her appearance and voice, referring to her as a 'tractor trolley'. He had to extend a public apology to the PTI leader. But, this didn't stop the firebrand politician from making another sleazy remark against another female member of the Imran Khan-led party Firdous Ashiq Awan, calling her a 'dumper'.

Twitterati reminded the seasoned politician of his misogynistic past.


Pot calling kettle black

— ملکMalik (@Malik__73) April 24, 2019
Yes, I think you forget "Tractor Trolley" a very good word. "Koi Sahrm hoti hai koi Haya hoti hai. "

— اڑیل گُجر (@qadeer_aq) April 24, 2019


https://twitter.com/lubnaGhazalpak/status/1121057850606927872


Yes ... we saw your inner self also when you gave very insulting remarks about @ShireenMazari1 not too long ago and did not have the ethic and integrity to accept and apologize

— Inaam Ahmad (@Inaam_a) April 24, 2019
Khwja sahb giving lecture on morals and values? Life is full of its little ironies isn't it? 🤦🏻‍♀️

— Marie. (@marie27daar) April 24, 2019
I can dig some clips that could be very embarrassing to you as well

— realdeal (@realdea19187603) April 24, 2019
@asmashirazi like tractor trolley & dumper statement????

— Ahmed H. (@AhmedHumayun01) April 24, 2019