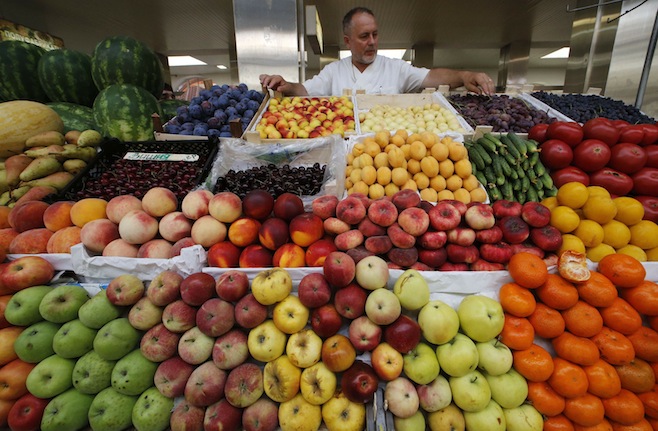 ---
LAHORE: In the absence of an effective price control mechanism, the rates of all essential commodities, including fruit and vegetables, have been jacked up ahead of Ramazan.

The Punjab government has called a meeting to finalise the Ramazan Package 2019 on Monday (today), but prices of all essential commodities have already gone through the roof. Market players are hinting at further increases in the coming weeks.

A market survey of different city areas, including Sunday bazaars, indicates traders and greengrocers have increased prices of all seasonal fruit and vegetables by 50% to 100%. Profiteering and overcharging is rampant in the Lahore, but neither the provincial nor district administration seems able to rein in these menaces.

Speaking to The Express Tribune, various citizens have complained that the sheer negligence of the Pakistan Tahreek-e-Insaf (PTI) government and state machinery have enabled greengrocers and vendors to fleece locals in broad daylight. They pointed out that not a single government official or political leader was available to check commodity prices.

K-P CM orders checking of prices ahead of Ramazan

Muhammad Salman underlined that the entire population was already bearing the brunt of inflation as a result of the poor economic policies and immature decisions of the PTI government. "Now, this artificial price hike, ahead of the holy month, is the worst example of bad governance," he said.

"What is the use of these so-called public representatives if they cannot not develop an efficient price control system? They know how to raise their salaries in the worst economic situation, but they are unaware of common citizens' problems," he lamented.

Nasir Hussain, a shopper, pointed out that the deputy commissioner, Punjab chief minister's advisers and other senior officials responsible for controlling and monitoring essential commodities prices always visit markets and bazaars with their official photographers for photo opportunities.

"These fame-hungry officials keep themselves busy with photo sessions while vendors fleece the public right under their nose," he remarked. "I believe that if government officials and politicians have even a little will to address this issue, the country would have solved this problem years ago."

Recently, the provincial information minister claimed that the PTI government was going to announce the biggest ever Ramazan package to provide relief to common citizens.

"A major chunk of this Ramazan package subsidy – financed through taxpayers' money – will be used to neutralise the impact of the current artificial price hike. Common citizens would be humiliated in long queues to get subsidised products in Ramazan bazaars," Hussain said.

Prices to be controlled during Ramazan

Survey of different Ramazan bazaars showed a very bleak situation as vendors were selling second or third-grade fruit and vegetables at a premium price. In most makeshift markets, the majority of seasonal fruit and vegetables were missing, but no government official was available to listen to public complaints.

A comparison of commodity prices indicates the price of onion have been skyrocketed during the past couple of weeks as it was being sold for Rs60-70 a kilogramme in different makeshift markets. However, the Lahore Market Committee had fixed its price at Rs50-52 a kilogramme. Potato prices were fixed at Rs10-12 a kilogramme, but an unsorted blended variety was available in most Sunday bazaars for Rs20-25 a kilogramme. Farmed cucumber price was fixed at Rs37-39 a kilogramme, following an increase of Rs3 a kilogramme. However, it was sold for Rs40 a kilogramme in the absence of an effective price control mechanism, while desi cucumber is sold for Rs100-110 a kilogramme. A Similar price trend was witnessed for tomato, garlic and ginger.

Brinjal price was fixed at Rs39-41 a kilogram, but it was sold for Rs40 a kilogramme. An increase of Rs10 was witnessed in mongray price which was fixed at Rs72 a kilogramme, but was not available in makeshift markets. The price of green pea was fixed at Rs26, but it was available for between Rs150 and Rs200 a kilogramme.

Spinach also witnessed an increase of over Rs10 a kilogramme as its price as fixed at Rs17-19 a kilogram, but it was sold for Rs28-30 a kilogramme. Chinese lemon showed an increase of Rs24 a kilogramme as its price was fixed at Rs97-102 a kilogramme. Similarly, local lemon price was fixed at Rs184-192 a kilogramme following an increase of Rs34 a kilogram. However, Chinese and local lemon are sold for Rs180-200 and Rs350-400 a kilogramme in Sunday bazaars, respectively. Similar price trend was seen for other seasonal vegetables.

Prices of difference apple varieties were fixed between Rs78 and Rs292 a kilogramme. However, on most stalls, a blended apple variety was available for Rs150-Rs180 a kilogramme. Similar quality apples were available in open market for Rs80-100 a kilogramme a couple of weeks ago.

Banana price is fixed at Rs81-87 a dozen, but it was sold for Rs120-160 a dozen in makeshift and open markets. Guava price remained stable at Rs60 a kilogram, but it was sold for Rs80-90 a kilogramme.

Different varieties of dates were sold for Rs300-500 a kilogramme, though their official price is fixed at Rs73-148 a kilogramme. A-grade melon price is fixed at Rs20 a kilogramme, but it was available for Rs70-80 a kilogramme, while lower quality melons were sold for Rs50-60 a kilogramme. Watermelon price is fixed at Rs49-51 a kilogramme but it was sold for Rs60-70 a kilogramme.

Published in The Express Tribune, April 22nd, 2019.