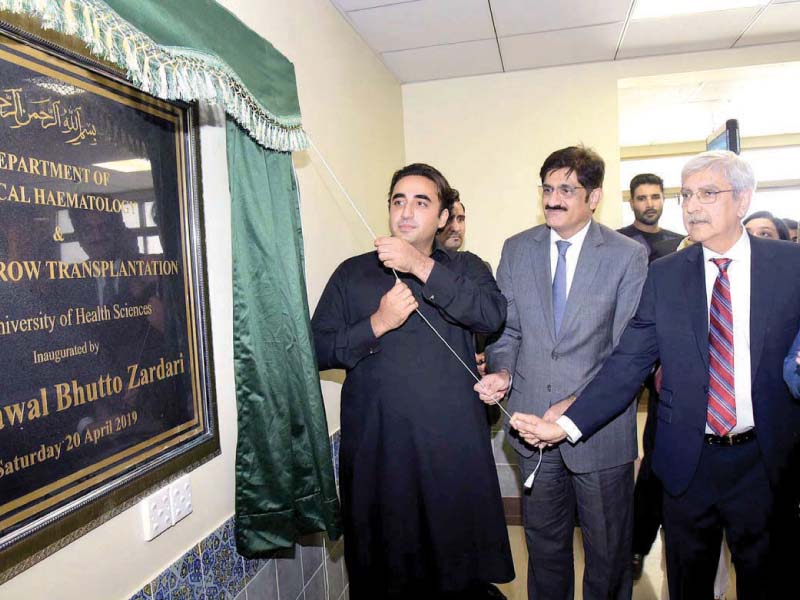 ---
KARACHI: A new department for clinical haematology and bone marrow transplantation, the first of its kind in a public hospital, has been set up at Dow University of Health Sciences (DUHS), Ojha Campus, where patients will be treated free of cost. The unit was inaugurated by the Sindh Chief Minister (CM) Syed Murad Ali Shah and Pakistan Peoples Party (PPP) Chairperson Bilawal Bhutto Zardari on Saturday.

Talking about the health sector, Bilawal said that after the successful operation of kidney and liver transplants, the government has now launched the "Bone Marrow Transplantation Unit" where patients will be treated free of cost. "In public sector hospitals, such an intervention is extraordinary success," he said adding that the Sindh government had successfully launched cardiovascular diseases' units across the province, started the Sindh Institute of Urology and Transplantation (SIUT) centre in Sukkur and liver transplantation in Gambat Hospital.

Bilawal also referred to the free of cost CyberKnife treatment for cancer patients at Jinnah Postgraduate Medical Centre (JPMC) and said, "This technology is latest in the world and it is being used in Pakistan for the first time. The credit for this goes to Sindh government for installing state of art machines, from which patients are being treated free of charge."

He further said that the government was seeking more avenues in health sector and, with the help of public-private partnership, will start new interventions to provide relief to the masses. "We are going to launch trauma centres at divisional level too," said Bilawal.

Bilawal took a tour of the hospital and inquired about the health of patients admitted there and met the doctors and other staff of the newly established department. Sindh CM, Adviser to CM Murtaza Wahab, DUHS Vice Chancellor Prof Mohammed Saeed Quraishi and others accompanied.

Blaming Centre

Bilawal, criticising the Pakistan Tehreek-e-Insaf (PTI) government for slashing 50% development funds of the Sindh government, said, "We will snatch our rights if the incumbent federal government did not give us the due share of Sindh."

Calling the PTI government "incompetent", Bilawal said that they had no idea how to run the government as eight months' performance and subsequent removal of ministers proved that Imran Khan-led government has failed to deliver. Bilawal, talking about the presidential form of government, said, "We will foil all the conspiracies being hatched against provincial autonomy."  He asked the federal government to announce new National Finance Commission (NFC) Award and release funds to provinces without any delay and make drastic reforms in its policies rather than hatching conspiracies against provincial government and taking revenge from political opponents.

"The puppet government led by Imran Khan will do nothing for this country," he said adding that no one else, but PPP will resolve the people's problems. "Finally, they have appointed our people in cabinet. This endorses that our initiative for economy was up to the mark."

Published in The Express Tribune, April 21st, 2019.