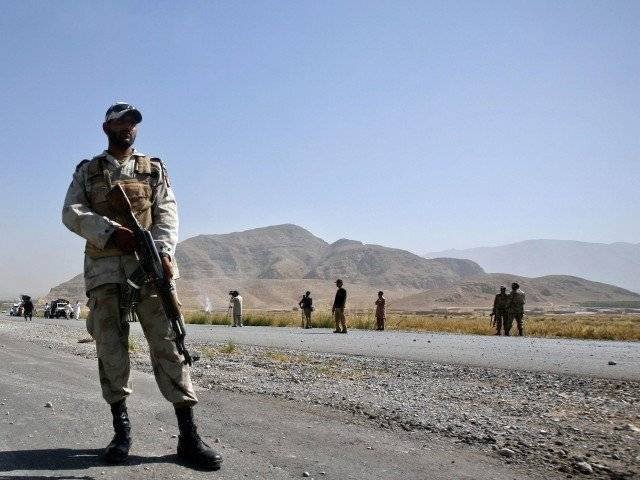 ---
QUETTA: At least 14 passengers, including Pakistan Navy personnel, were offloaded from buses and were shot dead by terrorists on the Makran Coastal Highway early Tuesday.

"The martyred include personnel from the Pakistan Navy," said a spokesperson from the service.

A passenger bus – travelling between Karachi and Gwadar – was stopped by around 25 unidentified attackers in the Buzi pass area near Hangol after midnight.

The terrorists – wearing Frontier Corps uniforms – checked the identity cards of the passengers before offloading and abducting the victims.

"The attackers were wearing uniforms from the paramilitary Frontier Corps," said provincial home secretary Haider Ali while talking to AFP.

They "stopped buses on the Makran Coastal Highway and gunned down 14 people," he said.

Two of those abducted reportedly managed to escape while 14 were shot dead and their bodies were recovered from near a local restaurant in the area.

Security forces reached the spot soon after the incident and started an initial investigation into the attack and established a cordon. Rescue teams moved the bodies of the victims to a Navy hospital in Ormara for the identification process.

Attack shows a 'pattern'

In a statement, President Dr Arif Alvi expressed deep grief and sorrow over the loss of precious lives and said such attempts to spread mischief in the country will not succeed.

"The nation is united and committed against terrorism," he added.

Prime Minister Imran Khan also condemned the attack and has asked for a report of the attack.

The premier has directed the authorities to make every possible effort to identify and to bring the perpetrators of the attack to justice.

He has also expressed his sympathies with the families of the victims.

Information Minister Fawad Chaudhry also condemned the incident and stated the attack, along with the recent attacks on the Hazara community and the April 16 Hayatabad gun battle, show a "pattern" and the government will continue the fight against terrorism.

He further said that the country had sacrificed many lives but the "fight is far from over".


ہزارہ پر حملہ، پھرحیات آباد میں TTP اور پھر آج کوسٹل ہائ وے کا بہیمانہ واقعہ۔۔ ایک منظم پیٹرن نظرآرہا ہے، ہم نے امن کیلئے بہت قربانی دی ہے، انشااللہْ ہم ان واقعات کےذمہ داران کو مثال عبرت بنا دیں گے، ہم نے دہشتگردی کی جنگ میں بڑی کامیابیاں حاصل کی ہیںلیکن جنگ ابھی ختم نہیں ہوئ

— Ch Fawad Hussain (@fawadchaudhry) April 18, 2019


Condemning the incident, Chief Minister Jam Kamal Khan said the terrorists killing innocents are working on an agenda pushed by anti-state elements. "It is a conspiracy to create hurdles in the development of Balochistan."

Former president and PPP co-chairperson Asif Ali Zardari also condemned the attack in the Buzi area and said innocent people lost their lives and it cannot be forgiven.

Federal Minister for Human Rights Shireen Mazari also expressed shock and grief.


Horrific act of terrorism ag in Balochistan. This time targeting a particular ethic group & claimed by BLA. Diff strands of terrorists continue to target r ppl bec we did not deal holistically against terrorism. Govt now moving forcefully without discrimination to implementt NAP

— Shireen Mazari (@ShireenMazari1) April 18, 2019
COMMENTS (2)
Comments are moderated and generally will be posted if they are on-topic and not abusive.
For more information, please see our Comments FAQ