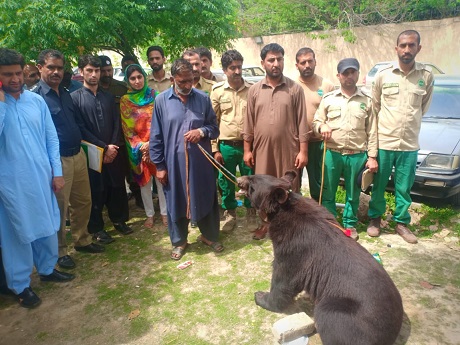 ---
RAWALPIDI: The Punjab wildlife department has arrested eight people for illegally selling rare birds and an endangered black bear in two separate raids on Sunday.

District officer wildlife department Rizwana Aziz, along with her team, caught a man red-handed while he was selling a black bear despite a ban on its trade in the city's Kari road area.

Adalat Hussain, the accused, was presented in a court, where civil judge Sumair Alamgir ordered sending him jail. The judge also directed the authorities concerned to release the animal in the forest.

In a separate raid, the wildlife team recovered dozens of birds of different species in Taxila and arrested seven culprits involved in the trade of rare bird species.




The birds were released in a nearby forest in the presence of hundreds of citizens while the culprits were slapped a Rs100,000 fine.

Wildlife dept recovers protected animals

Speaking to The Express Tribune, Rizwana Aziz said the protection of wildlife is the top priority of her department and a major crackdown against illegal trade and hunting of prohibited animals would soon take place.

Earlier on March 20, a wildlife department officials raided a bird market on College Road in Rawalpindi and recovered animals of different species including eight Monkeys, 11 Chukars (pheasant/partridge) and a black partridge.

The team detained two suspects Naveed and Sartaj, who had allegedly travelled to the market to trade in the animals.
COMMENTS
Comments are moderated and generally will be posted if they are on-topic and not abusive.
For more information, please see our Comments FAQ