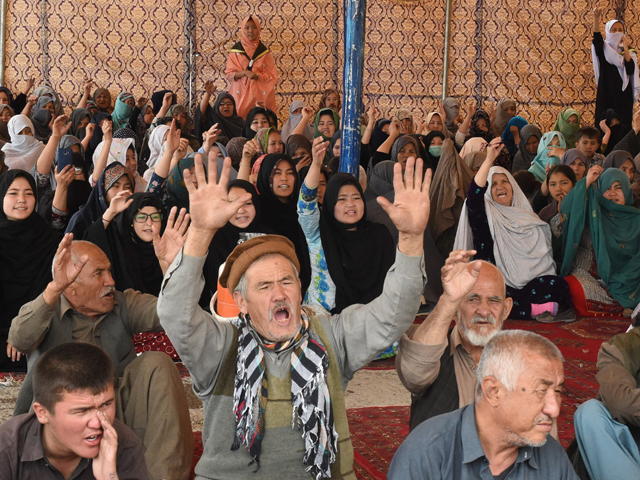 ---
QUETTA: The Hazara community's sit-in protest launched after Friday's suicide attack at a vegetable market continued on Sunday as the Middle Eastern terrorist group Da'ish claimed it was behind the blast that martyred 20 people, including eight Hazaras.

According to the protesters, they will continue their sit-in till the arrest of the culprits. They also urged Prime Minister Imran Khan to visit Quetta.

After the blast that took place at Hazar Ganji market early Friday morning, members of the beleaguered Hazara community gathered at Quetta's Western Bypass to protest against what they term the 'persistent failure' of law enforcers to provide them security in Balochistan and across Pakistan.

Hazara community's Quetta sit-in enters second day

On Saturday, the protesters, comprising hundreds of people, including women and children, set tyres on fire and blocked the bypass for traffic. A protest was also staged in front of the Quetta Press Club.

As the sit-in at Western Bypass entered its third day, the protesters remained steadfast in their demands – immediate action against the perpetrators of attack; implementation of the National Action Plan and an earnest effort by the state authorities to fulfil their responsibility of providing security to its people.

According to police and Balochistan Home Minister Zia Langove, the vegetable vendors belonging to the ethnic Hazara community were target of the attack in which 48 people also suffered injuries.

"A suicide bomber detonated his explosive-laden vest inside the vegetable market," Langove said.

A faction of outlawed Tehreek-e-Taliban Pakistan had earlier claimed the attack. The group, reported AFP, had said it collaborated with Lashkar-e-Jhangvi (LeJ), which has been behind numerous bloody attacks on the Hazara community. There was no immediate confirmation from the LeJ.

However, on Saturday the Islamic State group, also known by its Arabic acronym Da'ish, claimed the responsibility. The group released a photograph of the bomber along with his name.

The Amnesty International, in its statement on Friday had said the blast was a 'painful reminder' of the many attacks suffered by the Hazara community in Quetta over the years. It had also called for the government to give them better protection.

Balochistan bleeds again: One martyred, at least 11 injured in Chaman IED blast

"Each time, there are promises that more will be done to protect them, and each time those promises have failed to materialise," wrote Omar Waraich, Amnesty's deputy director for South Asia.

Balochistan Chief Minister Jam Kamal Khan visited the Hazara Town on Saturday. He expressed his condolences over the lives lost in the suicide attack, vowing to end the menace of terrorism.
COMMENTS (1)
Comments are moderated and generally will be posted if they are on-topic and not abusive.
For more information, please see our Comments FAQ