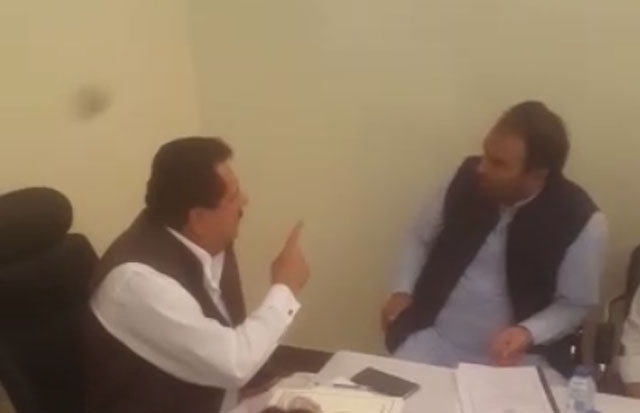 ---
LAHORE: A verbal altercation between PTI's Punjab assembly member and parliamentary secretary Nazir Chohan and PML-Q's Federal Housing Minister Tariq Bashir Cheema was caught on camera as both exchanged hot words.

In the video, Chohan can be seen accusing Cheema of ignoring the problems facing the public, while Cheema hit back by telling him not to try and "make drama" while calling him a "Lahori" in a derogatory tone. Cheema also asked Chohan to take his complaint to the person who had appointed him as a federal minister – implying PTI chief and Prime Minister Imran Khan.

The video doing rounds on social media shows the two embroiled in a war of words in the presence of dozens of people. Chohan aggressively questions why the people who have come to the spot are being ignored, asking whether or not they are human.

He said that as a representative of the constituency he will talk about their issues.

Cheema retaliated by saying that he had seen such dramas his entire life and accused Chohan of playing to the crowd.

An enraged Chohan asked him why he became an MNA or a minister if he could not work for the people. Cheema then called back to Chohan having taken a harsh tone with him in a previous encounter in Islamabad, adding that he will reply in the same harsh tone and will continue to do so in the future. Cheema then left the office.

On being contacted by Express, Chohan first declared lack of knowledge about any such incident, but when told of the existence of a video, Chohan replied that the video dates back to pre-election time.

However, when informed that the video shows him referring to Cheema as a federal minister, Chohan said he refutes it.