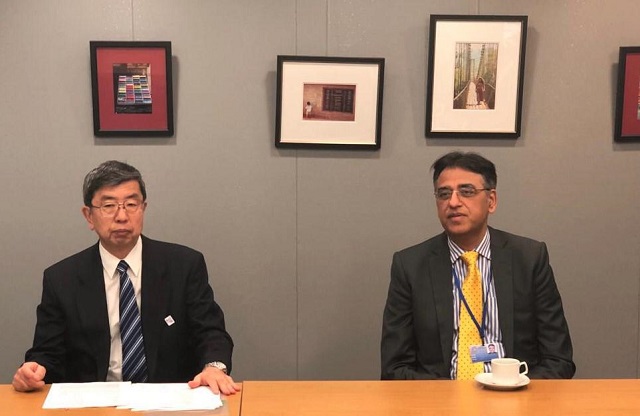 ---
Finance Minister Asad Umar on Thursday said Pakistan suffers from lack of reforms and the government is working on structural changes in the economy.

Umar added that previous governments have also turned to the International Monetary Fund (IMF) for financial aid.

"There are issues at the structural level," said the finance minister in Washington D.C.

"Pakistan has been battling a balance of payment crisis for a long time owing to the mistakes of a few people."

Elaborating further, the finance minister said that the IMF program will bring improvement in the economy and a delegation of the financial body will visit Pakistan in coming weeks to finalise technical details.

Pakistan, IMF at odds over Rs5.4tr tax collection target

"All governments, whether PML-N, PPP or PTI have approached the International Monetary Fund," he added.



The finance minister-led delegation entered the second round of talks with IMF and World Bank (WB) officials on Thursday.

The Pakistani delegation also met with Asian Development Bank (ADB) President Mr Takehiko Nakao and apprised him of the country's macro-economic situation. The two discussed Pakistan's ongoing engagements and the ADB chief assured the finance minister of continued support.

Earlier, the finance minister reviewed the bank's portfolio for Pakistan in a meeting led by WB Vice President for South Asia Hartwig Schafer. The two discussed projects including sectors in which the funding body could further scale up its involvement in Pakistan.

World Bank president appreciates Pakistan's reform process

On countering financial woes, Umar also engaged with the WB team on Multilateral Investment Guarantee Agency (MIGA) led by CEO Vijay Iyer. He expressed his views about the government's privatisation policy and the expansion of public-private partnership framework.

The team also apprised Umar of its current engagements in the country and expressed interest in expanding its existing portfolio.

Umar also met his Saudi counterpart and discussed potential employment opportunities for Pakistani construction workers in Saudi Arabia.

The finance minister, during the day, also met with officials from the US Treasury and the delegation held a number of bilateral meetings on the sidelines.
COMMENTS
Comments are moderated and generally will be posted if they are on-topic and not abusive.
For more information, please see our Comments FAQ