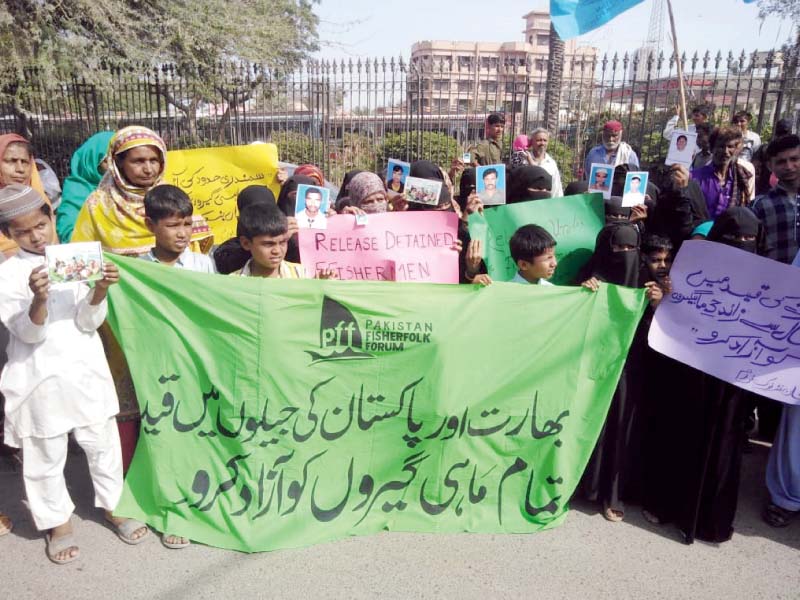 ---
KARACHI: A large number of fishermen belonging to Karachi, Badin and Thatta protested in front of the Karachi Press Club (KPC) on Thursday for the release of Pakistani fishermen languishing in India's jails. The protest which, was organised by Pakistan Fisherfolk Forum (PFF), was held three days after Pakistani authorities released around 100 Indian fishermen.

Women, children, family members of detained fishermen and civil society members were among those who were shouting the slogans.  "We have been facing enormous financial difficulties since my son, who was the sole breadwinner, was taken into custody by Indian authorities 18 years ago," said an elderly woman, who was holding a placard. The burqa-clad woman added, "Please don't forget to write about my son. His name is Usman. We belong to Rehri, Ibrahim Hyderi".Indian govt's action is pushing families of Pakistani fishermen towards starvation, says activist

According to the protesters, around 98 Pakistan fishermen are in Indian jails. A few of them have been languishing there since 2001. "There were around 360 Indian fishermen in Pakistan jails of which 100 have recently been released.  It is high time for India to show some good gesture," said PFF Chairperson Mohammad Ali Shah. Referring to the death of Noorul Amin, he added, "Instead of releasing our fishermen, they are sending bodies here".

Amin was a Pakistani fisherman who was reportedly tortured to death in an Indian jail. "We demand to initiate a proper investigation about his death by forming a joint judicial commission," added Shah.

The protesters arrived in a rally at the KPC. Expressing grave concern over the frequent arrest of fishermen, they said, "India's maritime security forces detain Pakistani fishermen by violating our territorial waters and then imprison them for years".

Zulekha, a civil society activist lamenting the aggression of Indian forces said, "Such inhumane acts of the Indian government have pushed the families of the imprisoned Pakistani fishermen towards starvation".

Pakistan and India started apprehending each other's fishermen along with their boats in the Arabian Sea in 1987 and have continued since then. Poor fishermen of both the countries have suffered immensely due to this cruel practice.

While addressing the rally, Shah said that tensions between the two countries have always resulted in more problems for the fishermen and quite frequently increasing the period of their detention and leading to a situation where even highlighting their suffering becomes an issue. He said that the fear of getting arrested has led to increased reluctance among fishermen to go fishing in the deep sea which has an adverse impact on the life and livelihood of fishing communities. Confiscation of boats, which is the only source of livelihood for the fishermen, makes matters worse, he added.

PFF chairperson appreciated the decision of the Pakistani government to release Indian fishermen. "Both India and Pakistan must stop arresting fishermen and adopt 'No Arrest Policy'", he said.

Published in The Express Tribune, April 12th, 2019.
COMMENTS
Comments are moderated and generally will be posted if they are on-topic and not abusive.
For more information, please see our Comments FAQ