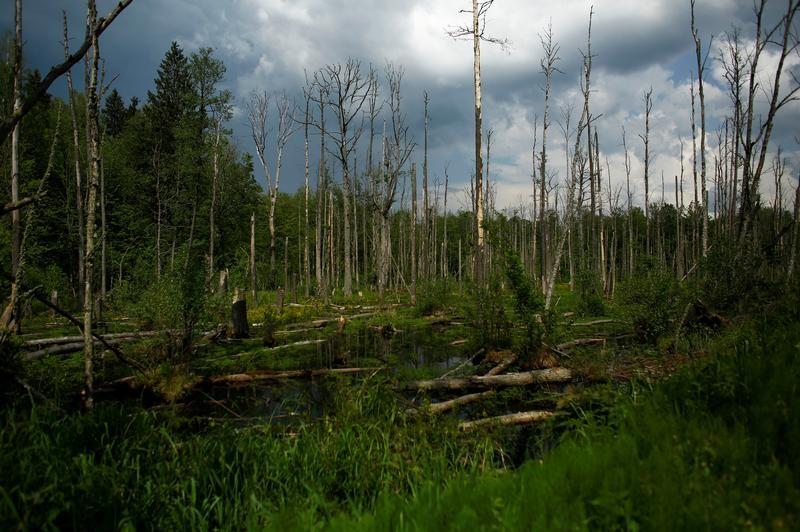 ---
KARACHI: The Sindh government appears to be helpless in recovering forest land worth billions of rupees from individuals exercising heavy political influence, The Express Tribune has learnt.

Despite repeated claims of getting the encroachers evicted, the provincial authorities have yet to make concerted efforts and now apparently attempting to hoodwink the courts by tweaking the records.

The Supreme Court and the Sindh High Court (SHC) have time and again expressed displeasure with the provincial government over its failure to protect forests and allowing the felling of trees. On October 31, the SHC had issued an order for the illegally allotted land to be returned. In January earlier this the matter was raised again by the then Chief Justice of Pakistan Mian Saqib Nisar, who remarked, "Those with no right to govern are in power," Justice (retd) Nisar had said.

Maladministration, corruption, favouritism and political compromises have kept provincial authorities from implementing Supreme Court orders in this regard, exacerbating deforestation in the province.

World Bank debunks Sindh's stats on $433m project

As much as 80% of Sindh's forests have been encroached upon, with hardly 100,000 acres or just 0.3% of the province's territory remaining, according to Forest Department's estimates. The Sindh government has allowed felling of thousands of trees for commercial purposes under its 'utilisation policy' to generate revenue even as temperatures across the province rise every year due to deforestation among other factors.

A report submitted to the Sindh chief minister by Forests and Wildlife Secretary Asif Hyder Shah cited the chief conservator for the Sindh forestry department as saying that land grabbers have encroached over 145,300 acres of forest land and another 64,500 acres were illegally allotted.

On January 7 earlier this year, the Sindh Cabinet had cancelled the leases of 70,000 acres of forest land illegally allotted to different persons across the province and decided to initiate action against the influential persons who had been occupying 145,245 acres of forest land illegally. However, the action appears to have remained limited to paper.

While the chief conservator of forests, Aijaz Nizamani, claimed that they had recovered 110,000 acres of the encroached land in the past few months, he failed to provide any details to substantiate his claims. "There is no truth in the reports that we haven't been able to recover any land," Nizamani told The Express Tribune, adding that the forest department currently had 510,000 acres of land under its jurisdiction and was in fact worried about how best to protect it from encroachments. He could not, however, provide a district-wise breakup of the land they had recovered.

Meanwhile, The Express Tribune reached out to officials in the district administrations of six districts, who each refuted Nizamani's claims and said that there had been no eviction drive in their jurisdiction.

"The forest department must have evacuated the land only on paper so that the record may be presented before the Supreme Court on the next hearing," said one official, who spoke on condition of anonymity. "In fact, the whole province would have known if 100,000 acres of land had been evacuated," the official added.

Lease policy

According to the report, the Sindh government introduced an 'agroforestry' lease policy in 2004-05 to allow local citizens to own some forest land. Under the policy, 72,000 acres of forest land in Sindh was approved for lease and distributed among 3,500 individuals.

Political interference and incompetence on the part of the field officials of the forestry department hindered the policy's implementation. For starters, the lease schedule only made it binding on lessees to plant trees on specific parts of the land allotted to them.

Then, forestry department staff, particularly divisional forest officers who had full power to cancel leases, failed to put a stop to violations of lease contract terms and conditions when lessees began committing them. Leases were cancelled only in a few cases, allegedly at the behest of individual interests.

Meanwhile, the provincial government allowed the felling of trees to sell wood and make space for agriculture under its utilisation policy without paying heed to its detrimental effects on the environment. No authority exercised vigilance in the absence of a policy to curb felling of trees, allowing influential individuals to encroach upon cleared out forest land. In collusion with local revenue officers, encroachers also built residential and commercial structures on forest land.

The revenue department also permanently allotted land owned by the forestry department without the latter's consent, going against both the government policy and the judiciary's instructions.

Breakdown

According to the forests and wildlife secretary's report, of the 145,300 acres of forest land encroached upon by land grabbers, 14,000 acres are located in Sukkur division, 25,656 acres in Khairpur, 2,522 acres in Mirpur Mathelo, 16,749 acres in Hyderabad, 191 acres in Mirpur Khas, 4,699 acres in Thatta, 2,870 acres in Tando Muhammad Khan, 450 acres in Karachi division, 26,588 acres in Dadu, 17,494 acres in Larkana, 2,949 acres in Shikarpur, 7,365 acres in Kandhkot, 1,056 acres in Khairpur, 21,061 acres in Shaheed Benazirabad and 1,220 acres in Badin division.

Of the 64,500 acres illegally allotted. 1,158 acres are in Hyderabad, 42,331 acres in Karachi, 900 acres in Sukkur, 1,343 acres in Thatta, 5,263 acres in Dadu, 4,992 acres in Larkana, 290 acres in Kandhkot, 6,637 acres in Khapro, 1,361 acres in Khairpur, 61 acres in Mirpur Mathailo and 164 acres in Tando Muhammad Khan.

Adding fuel to fire, Karachi's fire dept devoid of effective communication system

Proposed remedies

The report expressed concerns that it has become impossible for the forestry department to retrieve the occupied land. It pointed out that the district vigilance committees formed under the charge of district and sessions judges based on SHC's directives could only make possible the recovery of seven per cent to 10 per cent of the occupied land.

The report also pointed out that the retrieved land has lost environmental benefits due to deforestation and the forestry department's lack of workforce and administrative expertise to grow forests on a large scale.

One recommendation in the report is to sell the land in question for five years through an agroforestry auction with the condition that makes it mandatory to cultivate trees on at least 50%. It states that it would be possible for the government to generate Rs2 billion to Rs2.5 billion this way.

The lease schedule should be reviewed in such a way that it ensures that lands encroached upon under the previous schedule and lands on which trees can be grown are included. The chief conservator, after completing the process in four weeks, should identify land that meets these criteria and present recommendations to the cabinet.

To ensure transparency of the financial rules and regulations, a three-member panel should grant approval for the lease, the report recommends. The chief conservator should recommend which land should be offered for lease and the administrative secretary should grant approval. This committee should be set up for every district.

The report also suggests setting up an autonomous department under the chief conservator to carry out GIS mapping and monitoring of forest land after a specified time. It recommends not allowing felling of trees under ordinary circumstances and making the department responsible for growing 100 new trees for every tree chopped down. It also calls for apprising the planning and development department of the aforementioned points before any developmental project is executed and issuing directives to the board of revenue to formulate a special team to review cases of illegal allotments.

Another suggestion put forth by the report is to initiate a tree planting and maintenance drive. The report also requests the chief minister to direct police and rangers to support the forestry department whenever needed and to make its research wing more dynamic and robust.

Published in The Express Tribune, April 12th, 2019.