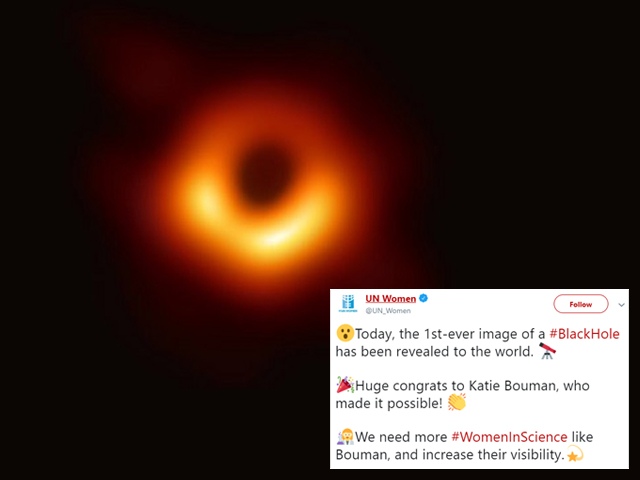 ---
Twitter has always been the go-to social media platform to vent out your feelings over any trending topic. The Blackhole image released instilled a similar reaction from people.

NASA heading back to Moon soon, and this time to stay

Users took to Twitter to appreciate and some even had requests to make #blackhole a trending topic on Twitter.

Can the @Google doodle be space and #BlackHole-themed every day?! pic.twitter.com/iX9q9GxBWM

— Adler Planetarium (@AdlerPlanet) April 10, 2019
The historic photo of #BlackHole proves Einstein right. pic.twitter.com/Lx7RTN9XZ3

— Ibad Ali Momin (@i_amomin) April 10, 2019
Just think, in about 100 years from now this will be in physics books for students to study. And we lived it. #BlackHole pic.twitter.com/bgVneUFrFe

— Tyler Bragg (@ImDahDude___) April 10, 2019
#BlackHole #الثقب_الأسود first image of a black hole pic.twitter.com/hNEB338HrJ

— AB27 (@27_XVII) April 11, 2019
#BlackHole discovered and we knew it since ages pic.twitter.com/JLGYe9txLl

— Cup Shup (@CupShup_pk) April 11, 2019

Pepsi also turned this into a marketing tactic for their brand.

What's on the other side of a #BlackHole? All the Flavor. Zero the Sugar. #science ☝️ pic.twitter.com/M3AL5sLg1A

— Pepsi (@pepsi) April 10, 2019

While many have taken this as a chance to congratulate Katie Bouman who was behind the algorithm that helped capture the first image of the black hole.

India's 'terrible' space 'feat'

1969: Margaret Hamilton alongside the code that got us to the moon
2019: Katie Bouman alongside the data that got us to the black hole pic.twitter.com/aIPOtdfA3F

— Ben Halpern (@bendhalpern) April 10, 2019
By the time they're six, girls are already convinced they're less good at math and science than boys: https://t.co/TgqhiYauFP

Tell your daughters about this woman and her accomplishments. #BlackHole pic.twitter.com/gdi04t0STt

— Jennifer Wright (@JenAshleyWright) April 11, 2019
Today, the 1st-ever image of a #BlackHole has been revealed to the world.

Huge congrats to Katie Bouman, who made it possible!

‍We need more #WomenInScience like Bouman, and increase their visibility. https://t.co/lf9mpQMawT

— UN Women (@UN_Women) April 10, 2019
Congratulations to Dr Katie Bouman!
This is the woman who created the algorithm to crunch the 5 petabytes of data from 500 kg of hard drives from 8 radio telescopes to make the first image of the #EHTBlackHole #BlackHole pic.twitter.com/wcCU1gMq3a

— Astrophiz (@Astrophiz) April 10, 2019