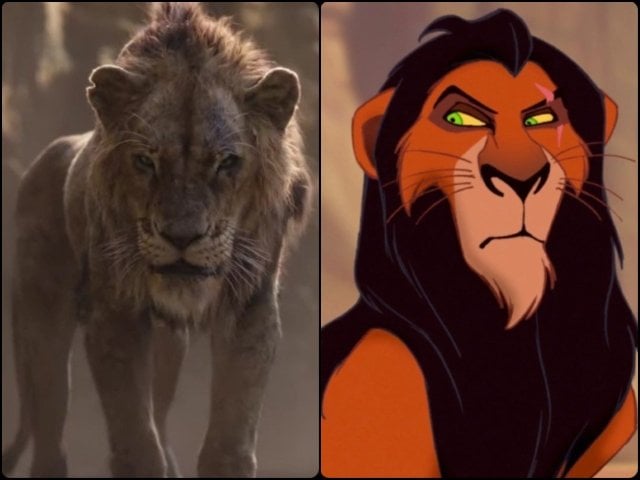 ---
LONDON: With stunning scenery of Africa and some talking wildlife, Disney dropped its first full-length trailer for its realistic-looking remake of The Lion King on Wednesday, offering a glimpse of the highly anticipated film.

The new movie, made with computer-generated imagery, follows the plot of the Oscar-winning 1994 animation about lion cub Simba, who flees his kingdom after his villainous uncle Scar connives to take his father Mufasa's place as king.


In 100 days, the king arrives. Watch the brand new trailer for #TheLionKing now. pic.twitter.com/PIWMxDSxbk

— Disney (@Disney) April 10, 2019


It boasts a voice cast that includes music star Beyonce and actors Donald Glover, Chiwetel Ejiofor, Seth Rogen and James Earl Jones, who voiced Mufasa in the 1994 version.

Counting down 100 days until the film's July release, the trailer begins with Scar, surrounded by hyenas, telling Simba: "Life's not fair, is it, my little friend? While some are born to feast, others spend their lives in the dark, begging for scraps."

Did you know?: Frozen ousts The Lion King as longest-running animated film soundtrack

Under 2 minutes long, it shows off the Pride Rock setting, with glimpses of Simba's childhood friend and love interest Nala as well as new pals Timon and Pumbaa. As well as Scar, Mufasa's voice is also heard in the trailer.

However, fans aren't completely satisfied with the newly-released video. While they seem to be more than happy with the star cast and visuals, they believe makers didn't to justice to Scar's character.


part of me is super excited for the lion king movie bc the lion king is my fave disney movie alongside bambi but. this isn't scar. why doesn't he have a black mane and darker fur. if you showed this to someone they wouldn't guess this was scar pic.twitter.com/JKJ2b3ycJA

— 💫Cupid💫 (@britebuck) April 10, 2019


https://twitter.com/ManThingFan/status/1116050127406403586

https://twitter.com/tearofmoonchild/status/1115972489748856834


The weird thing bout Scar in Lion King 2019 is that black-maned lions ARE REAL, and they easily could have based him off of one.

Lions with darker manes are also more aggressive and lead prides more often than lighter-maned males. Thus why Scar, the villain, has a black mane. pic.twitter.com/3t6E7eUsDw

— AtlasOne (@TheAtlasOne) April 10, 2019


https://twitter.com/niraikujen/status/1115956982685622272


I'm all for the lion king remake, (mostly because of Donald Glover), but these two pictures highlight how having live action cartoon characters restricts the portrayal of emotion, I mean just look at the picture of scar in the original photo compared to the new one #TheLionKing pic.twitter.com/aFpREnNzY3

— Alistair Poole (@alip1118) April 10, 2019
Biggest takeaway from the Lion King trailer: this film's depiction of Scar is weak. Scar is probably one of the most important parts of this movie. Scar is one of Disney's greatest villains and this film's Scar to me will not even closely compare to the original. pic.twitter.com/SaD5PnBWyd

— Cole Mareno (@ColeMareno) April 10, 2019


The Lion King was an instant hit with audiences around the world when it was released, and a hugely successful musical theater version still runs on New York's Broadway and in London.

The new trailer, which follows a first look of the film in November, garnered nearly 1.5 million views in the first two hours after it was posted on Disney's Twitter feed.

The film is the latest Disney remake to hit screens this year. It is directed by Jon Favreau, who was behind the 2016 remake of The Jungle Book.

Watch the trailer here:


Have something to add to the story? Share it in the comments below.
COMMENTS
Comments are moderated and generally will be posted if they are on-topic and not abusive.
For more information, please see our Comments FAQ