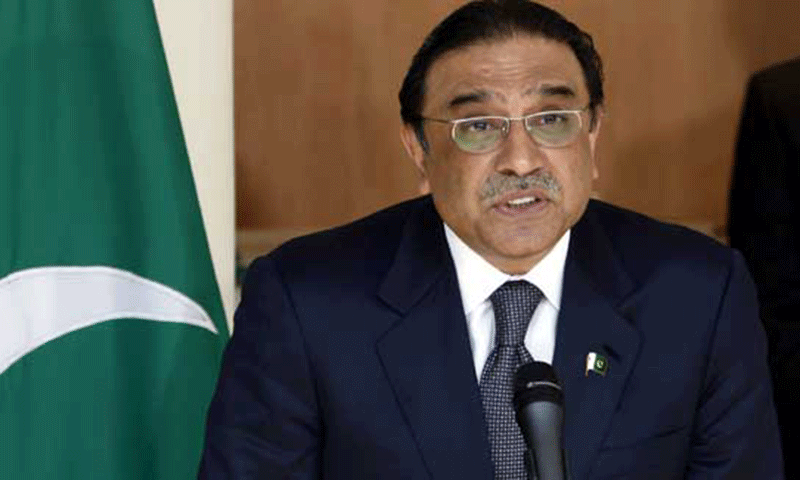 ---
Former president Asif Ali Zardari has requested the National Accountability Court for more time to submit a reply in the fake accounts case.

According to sources, NAB received a letter from Zardari's lawyer asking for a two weeks to submit a reply.

NAB sources said that the bureau is yet to decide whether or not Zardari will be given an extension to submit the reply.

On April 4, NAB filed the first interim reference in the fake bank accounts case, nominating nine accused for the misuse of authority and illegal allotment of amenity plots in Karachi.

Zardari confident parties will back PPP march against PTI govt

The anti-corruption watchdog's prosecutors submitted the reference to an accountability court in Islamabad. The accused included eight senior government officials and director of a private company.

The suspects nominated in the reference include former administrator of the Karachi Metropolitan Corporation (KMC) Mohammad Hussain Syed and former metropolitan commissioners: Matanat Ali Khan and Samiuddin Siddique.

Others nominated in the reference include Syed Khalid Zafar Hashmi, Najamuz Zaman, Abdul Rasheed, Abdul Ghani and Younus Kudwavi.

The prosecutor pleaded that the nominated accused should be tried in court for misuse of authority.

SC throws out review pleas in fake accounts case

The reference maintained that the accused allegedly allotted plots that were earmarked for welfare purposes illegally, causing huge losses to the exchequer.

The suspects allegedly allotted amenity plots reserved for library and temples, the reference added. Solid evidence against the suspects was available with NAB, so the court should punish the accused under NAB ordinance, the reference prayed.

The Federal Investigation Agency (FIA) had named PPP leaders Asif Ali Zardari, his sibling Faryal Talpur, Omni Group chairman Anwar Majeed, his sons and over 10 others as suspects in an interim charge sheet filed in a banking court in August last year.

The case was recently transferred from the banking court in Karachi to the accountability court of Rawalpindi for trial.