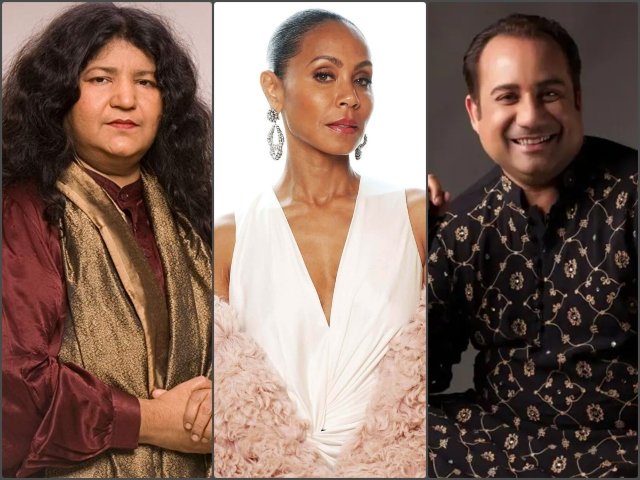 ---
Yesterday, something rather exciting yet peculiar occurred. Hollywood actor Jada Pinkett Smith took to Instagram to share her appreciation for renowned Pakistani stars Abida Parveen and Rahat Fateh Ali Khan.

Posting the Coke Studio video of the two artists performing Chaap Tilak she wrote, "Abida Parveen and Rahat Fateh Ali Khan are two of my favourite vocalists of Sufi music. This song is called Chaap Tilak and you can go on YouTube to check out the lyrics. They are beautiful."

Not only did she announce her love for Sufi music, Jada also called the two singers her favourite. The Bad Moms star then urged followers to read the song's lyrics - a poem by Amir Khusro.

https://www.instagram.com/p/Bv43clyDcQ3/

Unsurprisingly, fans rushed to the comments section to share their thoughts. "One of the many things I love about you sis , is how you use your platform to share, educate and encourage us all to broaden our scope," stated one user, showing their appreciation for the 47-year-old star.

Others wrote, "I don't understand the language but I can feel the soul and pulse in it. Music is beautiful like that" and "Wow. This just shifted my vibration. Amazing. Give thanks."

Our locals also took to the comments section, "Thank you for showing love to all people from all walks of life and showcasing it on your platform. It's refreshing to see Pakistan shown in a positive light, especially since it seems the media and rival countries are hell bent on spreading negative propaganda. Coke Studio highlights all major Pakistani talent and legends. Thank you Jada Smith, God bless you!"

"Yay Jada! I speak for most, if not all South Asians, we love this song!" stated a fan, while another wrote, "Pakistani legends, thank you for sharing with the world ."

Have something to add to the story? Share it in the comments below.
COMMENTS
Comments are moderated and generally will be posted if they are on-topic and not abusive.
For more information, please see our Comments FAQ