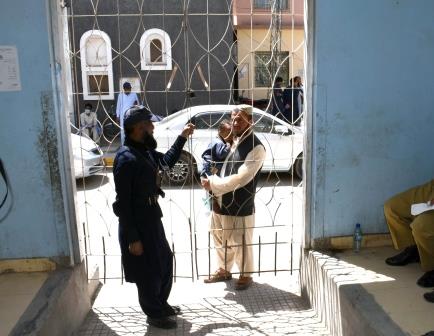 ---
QUETTA: A total boycott of the outdoor patient departments (ODP) in all government hospitals was observed for the second day on Saturday as doctors did not visit the hospital to attend to patients.

Various medical departments at Quetta's Civil Hospital, Sheikh Zayed Hospital and Bolan Medical Complex (BMC) Hospital remained locked.

Hundreds of patients in government hospitals did not receive treatment because of the two-day strike call given by the doctors' community and the Young Doctors Association (YDA).

"I brought my father for treatment of his jaw but we could not see a doctor because of the doctors' strike. We have travelled from Qilla Abdulla to Quetta," said Muhammad Ghani, "We want doctors to be sincere with their sacred profession".

The doctors' community had announced a two-day strike in government hospitals against the life- threatening attack on senior Dr Sultan Tareen in his private hospital and the lack of health facilities for poor patients in the province.

Meanwhile, the YDA staged a rally and demonstration inside the premises of BMC Hospital and chanted slogans for the protection of doctors and an increase in salary of post-graduate doctors.

"The provincial government never showed seriousness toward our demands and on adequate facilities for poor patients," YDA representative Dr Abdul Malik Kakar said.

He added "We have held enough talks and meetings with the provincial government and health officials but this time we have decided to boycott casualties as well if the government does not fulfill our basic demands".

Poor patients in Balochistan have been plagued by doctors' strikes for many years now which have deprived them of treatment in government hospitals.