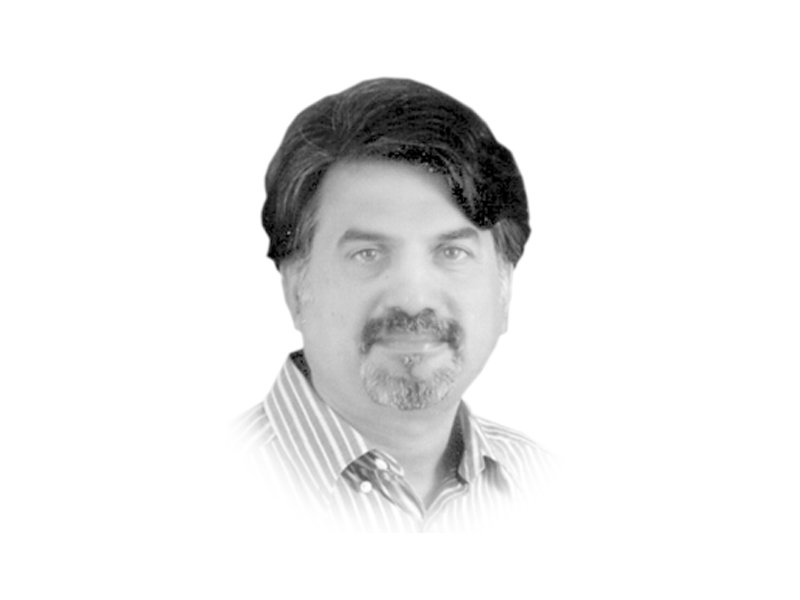 ---
David Hume (1711-1776) was a Scottish scholar and historian who is famous for his work in philosophy built around the debate of 'feelings versus reason'. He believed that "we are more influenced by our feelings than reasons" and that "reason is a slave of passion". But his best quote that reminds me of politics and our politicians is "we reason from and not to our convictions". Should I describe these 'convictions' as the party manifestos, party ideology or the 'grand party political designs'?

Whatever they may be called all politicians and their parties are convinced that they have absolutely no role in contributing towards Pakistan's deep down political, social and economic miseries that it faces today. A great demonstration of this conviction was unleashed by the PPP when both former president Asif Ali Zardari and his son, Bilawal Bhutto Zardari, on April 4 on the occasion of 40th death anniversary of Zulfikar Ali Bhutto at Garhi Khuda Bakhsh made calls for 'a march on Islamabad' and besides many other things termed the cases against them the outcome of their opposition to what they claimed plans to abolish the 18th amendment to the Constitution. If David Hume had been alive, I am sure he would have extensively quoted examples from Pakistani politicians to validate his thesis: "reason is a slave of passion". While reason may fall victim to political necessities of political parties, it is up to the civil society not to let go of their responsibility and ability to continue to bring to the forefront the reason and thin slice reason away from all the layers of feelings and passions under which it is kept lying dormant by politics and its interests.

So the topic of my piece today is not the politicians but the product of their politics — our country. Following the elections and their results in the Democratic Republic of Congo (an ideal state that is referred to as an example of failed state whenever academics want to make such a reference), I stumbled upon some very interesting facts and also similarities that some of our politicians and politics share with that country. I just want to draw a comparison and pinpoint to the attention of politics which is largely 'convinced of its innocence' that there is reason to believe that countries do not meet their fate without 'good civic involvement' or 'bad selfish exclusion'. It's only through bad, selfish and patronised politics that states like Congo emerge on the political scene — deteriorating into if not already a failed state.

Laurent Kabila occupied the President's office in Congo in 1977. Twenty-four years later (in (2001), he was shot dead by his guard. Three days later, 29-year-old Joseph Kabila, his son, was brought into power with an experience that showcased doing odd jobs for his father and driving a taxi. In a country where 77% of people earn less than $1.9 per day (in Pakistan 29.5% which is almost 55 million people living under the poverty line) which the World Bank classifies as extreme poverty, Joseph Kabila ruled for 18 years before elections were held in December 2018 and he was removed from power. These elections were originally scheduled to be held in 2016 but were delayed on one pretext or the other. A delay occurred because of a mysterious fire on December 23 that engulfed a warehouse in the capital of the country where 8,000 electronic machines were destroyed. Besides the 'mysterious fires' that have these cunning presences of targeting places that could maximise or minimise power, there are other interesting things that Joseph Kabila achieved before stepping down from Congo's Presidency.

Many judges in Congo were replaced with unqualified loyalists; half of the children in Congo remain stunted due to malnutrition. His mother used to sell vegetables in neighbouring Tanzania but two decades in power, Kabila and his family had their fingers in everything — aviation, mining, farming and contracts. Kabila's twin sister, Jaynet, holds indirect stakes in Vodacom Congo (the country's biggest cell phone service provider). Another sister Gloria owns 40% of a large bank. His brother Zoe runs a luxury hotel on Congo's Atlantic coast. With four million displaced persons within the country and many ungoverned provinces ruled by militias rather than the government, the country's military remains the least paid. Mobutu, the predecessor of Kabila, when reminded to reinforce and increase the salaries of the military personnel, famously replied, "You have guns, you don't need salaries." Utilising his parliamentary majority, Kabila also did away with the two-term limit of the president by incorporating a constitutional amendment thus taking elections as far and away as December 2018. The real question that comes to mind is why the looters and plunderers of a country's wealth leave that country. The answer maybe is that to maintain the income streams going they have to remain in power and also because staying in the powerful political office means more guarantees of survival. If they survive a smooth political transfer of power, they are most likely to end up in prison. But not to meet such a fate they still execute some political schemes.

Even after having lost the presidential elections, Joseph Kabila, as stipulated in the constitution, will now become a senator for life and preside over the Senate of Congo. This empowers him to control the mining sector, home ministry, foreign ministry and the budget of the country. So even if he may not be the president, the power would shift to where he goes — from presidency to the Senate.

Is it then strange that we also witness the transfer of such powers before the presidents in this country culminate their political tenures? Constitution is a social contract between the ruler and the ruled and those who re-write this social contract (through amendments) must ask themselves a moral question — As a consequence of this re-writing what have they given to the ruled?

Listening to the PPP leadership on the 40th anniversary of ZA Bhutto I was reminded of David Hume — "We reason from and not to our convictions". One such conviction that our current government must reason from is "no tolerance for schemed and planned political corruption" no matter what be the cost. 

Published in The Express Tribune, April 7th, 2019.

Like Opinion & Editorial on Facebook, follow @ETOpEd on Twitter to receive all updates on all our daily pieces.
COMMENTS
Comments are moderated and generally will be posted if they are on-topic and not abusive.
For more information, please see our Comments FAQ