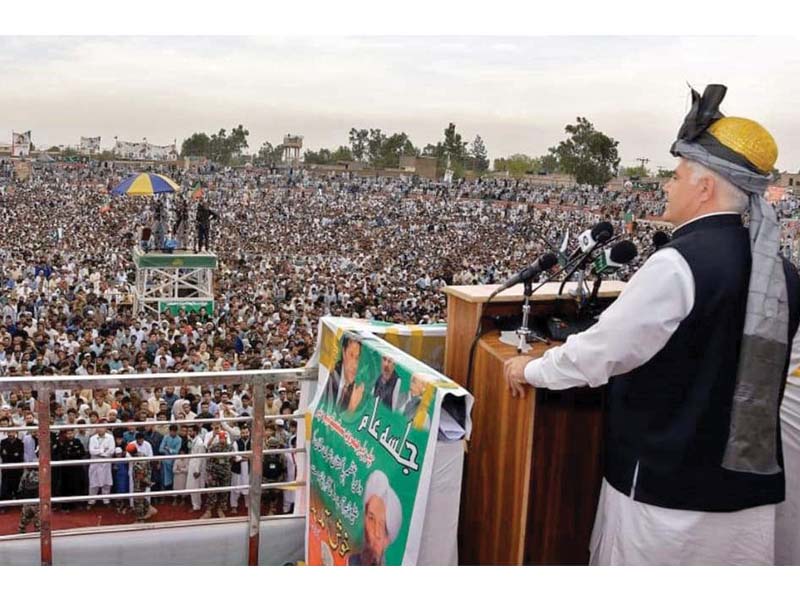 ---
KHYBER: Chief Minister Mahmood Khan said that the tribal region has been in the state of war for the past 14 years, but now the situation has changed and guns have been replaced with pens in the hands of the tribal youth, which is a positive change.

Speaking at a gathering Jamrod on the arrival of PM Imran Khan he said that in spite of return of peace and stability in the region some people were trying to deceive the populace in the name of Pashtun nationalism, "but they will never succeed."

He appealed to politicians not to cheat people in the name of Pashtuns. "We are all Pashtuns. Is your chief minister not Pashtun, has he come from a foreign country, is your governor not Pashtun, we are all Pashtuns and understand the issues and problems of the tribal people and earnestly want to resolve them."

It was difficult to undo the injustices of past 70 years in few months, Mahmood said adding the PTI government was making all out efforts to end the sense of deprivation among the tribal people.

He said that all the needs of the tribal people will be fulfilled under Prime Minister Imran Khan.

Primer Imran has always talked about the protection and security of tribal people's rights and development.

Chief Minister Khyber Pakthunkhwa, Mahmood Khan said on Friday said the government will provide Sehat Insaf Card to people of tribal districts for free medical treatment at any hospital of the country.

Addressing a gathering at Jamrud sports complex, CM Mahmood said that beneficiaries of Sehat Insaf Card will be able get free medical treatment at any top government and private hospital across the country.

The public health insurance scheme is being executed by State Life Insurance Corporation with German assistance.

Khyber Pakthunkhwa Governor Shah Farman, Federal Minister for Religious Affairs Noorul Haq Qadri, Prime Minister's Special Assistant for Media Iftikhar Durrani, Prime Minister's adviser on establishment Arbab Shahzad, members of the parliament and PTI leadership were present at the occasion.

CM said K-P government has decided to extend this inclusive program to all tribal districts where family of each beneficiary can avail free treatment up to Rs720,000 annually. More than one million families in tribal districts would benefit through Sehat Insaf Cards.

Tribal people had rendered great sacrifices for the country and their problems would be addressed on priority basis.

He said PTI government believed in uniform development of the country and committed to bring less developed areas including tribal districts at par with the settled developed areas of the country. The Chief Minister said Levies and Khasadar force have rendered great sacrifices in war against terror and their sacrifice will not go waste. He said all issues of Khasadar and Levies force have been addressed.

Mahmood said PTI government is going to launch special self-employment programme for youth. Insaf Rozgar (employment) programme will provide dignified jobs to youth irrespective of political affiliations.

He said Prime Minister Imran Khan has always raised voice for people of tribal districts and will protect their rights.

All hospitals, basic health units and rural health centres in Khyber district will be equipped with latest medical technology by June this year. He said all basic facilities relating to education and health would be provided to people of Khyber district at their doorsteps. Sports grounds would be constructed in tribal districts to provide better facilities to tribal youth.

With additional input by APP 

Published in The Express Tribune, April 6th, 2019.