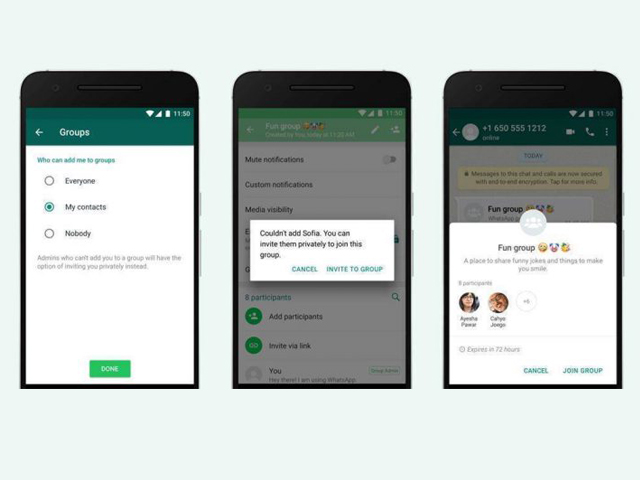 ---
WhatsApp groups have played a big role in how the medium of online communication has evolved over time.  From important events to keeping in touch with friends, WhatsApp groups have been the basis of helping people communicate.

However, there have been certain problems with this technology. More often users are added to groups against their will which forces them to take extreme actions such as leaving the group and subsequently causing a degree of social friction.

To come around this problem, the Facebook-owned messaging giant finally found a solution as it now seeks approval from the user being added before involving them in the group.

"With these new features, users will have more control over the group messages they receive," states the blog post.

WhatsApp makes changes to group chat

To enable the feature of choosing which group you want to be a part of, go to your account settings and then press on the privacy tab to choose the group settings. You can now choose from three options; nobody, my contacts or everyone.

When you select "Nobody" as an option it then means no one will be able to automatically add you to a group without your approval. The option of "My Contacts" means only users in your address book can add you to groups while the "Everyone" option will not require any approval on the user's end.

WhatsApp co-founder asks users to delete Facebook

Users get only three days to accept the invite after which it expires.

Earlier, the BBC had reported that ahead of Brazil's elections, political campaigners were using software to automatically add people to politically motivated WhatsApp groups without their permission while a similar Time report stated that similar practices are currently taking place in India ahead of the General Election.

Previously, WhatsApp enabled the feature to allow users to leave a group permanently to avoid being repeatedly added back after they have left.

The new setting is being rolled out and users will soon get to make the changes.
COMMENTS
Comments are moderated and generally will be posted if they are on-topic and not abusive.
For more information, please see our Comments FAQ