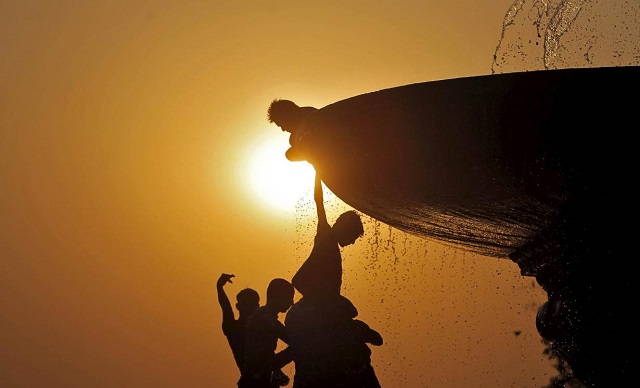 ---
KARACHI: Amid rising temperature and with citizens being at a higher risk to a cascade of illnesses, medical experts have suggested Karachiites to take preventive measures to stay safe from ailments which are likely to be caused by hot weather.

The temperature of Karachi has risen in the last three days with the maximum recorded at 38° Celsius on Wednesday with 85% humidity in the morning and 50% in the evening. Medical experts have called for preventive measures such as avoiding oily foods and including more fruits, vegetables, cold juices and water in diet.

Consultant physician at the Jinnah Postgraduate Medical Centre Dr Umar Sultan, while speaking to The Express Tribune, said that patients suffering from stomach-related ailments such as diarrhoea, vomiting, stomach ache and loose motions visit hospitals more often in summers than other seasons. Children who consume oily, fried or junk food are more prone to such diseases.

Beat the heat: How to stay safe as Karachi swelters

Stressing upon preventive measures, Dr Sultan said that only making an effort to stay safe and eating right will help children and adults. He said that the heat wave in 2015 had brought in countless patients of heat stroke in the hospitals.

There is another heat wave expected during Ramazan this year, he said adding that the risk of heat stroke is also prevalent in citizens, the symptoms of which are excessive sweating and losing consciousness. Citizens are suggested to avoid going out unnecessarily in the sun from 11am to 5pm, and if they do, they must take preventive measures such as covering their heads, drinking ORS and water frequently to stay hydrated. If they feel their body temperatures rising or any kind of headache, they should find a shade immediately and drink water as headaches are caused when the body is dehydrated, said Dr Sultan.

Dr Sultan added that oily and sour food items cause acidity in the stomach, eventually leading to other diseases. The stomach is also affected by eating too much meat in hot weather, hence people shouldn't use substandard solid food items and drinks sold at roadside stalls. Chat, pakoras, samosas and other fried items should be avoided and homemade food should be prioritised.

Pakistan Met Office's heatwave warning centre to start working on April 1

Dr Noman Nasir, ENT specialist at Abbasi Shaheed Hospital, said that diseases related to the throat, nose and ears also increase with the change of weather such as sore throat, cough and flu. In order to avoid them, citizens must develop a habit to eat light food, cover heads with a wet cloth when outside and stay safe from the direct heat as much as possible.

Dr Nasir said that the bacteria in the intestines get activated when temperatures rise and they become the reason for the stomach ache and related diseases. These diseases are also caused due to the deficiency of minerals in the body. He added that the number of patients with stomach-related diseases in summers increases from 20-25 to 500-800, affecting children and aged people more.

Meanwhile, the Pakistan Meteorology Department Chief Abdur Rasheed has predicted a rise in temperature in the month of April and risk of a heat wave in the months of May and June as well as a rise in temperatures up till 40-45°. He said that an alert would be issued before the heat wave emerges.

Published in The Express Tribune, April 4th, 2019.
COMMENTS
Comments are moderated and generally will be posted if they are on-topic and not abusive.
For more information, please see our Comments FAQ