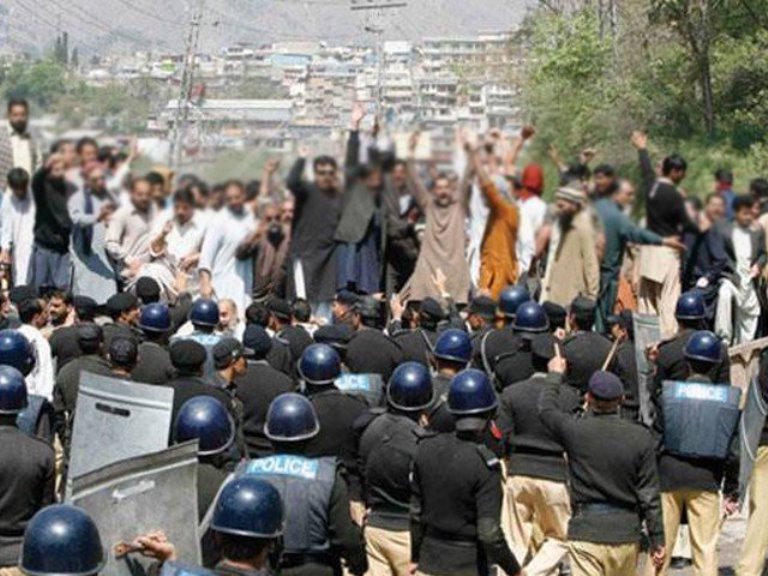 ---
MUZAFFARABAD: Protesters on Wednesday gathered in Muzaffarabad's main market against the alleged killing of a young man at the hands of the police.

Protesters blocked main thoroughfares and burned tyres against the alleged police brutality while some also gathered outside Azad Jammu and Kashmir Prime Minister Farooq Haider's residence.

The mob made it impossible for Haider to leave his house and reach his office.

According to Express News, protesters insisted that the police threw the young man off a building and killed him. On the other hand, the police maintained that the young man was a drug addict and had cases registered against him. Cases have also been registered against five policemen allegedly involved in the incident.

Man, wife, teenage daughter killed in shady police encounter in Sahiwal

In January, after four people were killed in a shady 'police encounter' in Punjab's Sahiwal, Twitter users were quick to weigh-in on the alleged police brutality.

The victims, including two women, were killed by Punjab's counter-terrorism police on a highway in Qadirabad.

The police first claimed that the victims were kidnappers and then changed their statement and called them 'terrorists from a proscribed group' raising doubts about the supposed 'encounter'.

The victims' children, however, contradicted the statement, saying the fatalities included their parents, elder sister and driver and that they were travelling from Lahore to Boriwala to attend a wedding.