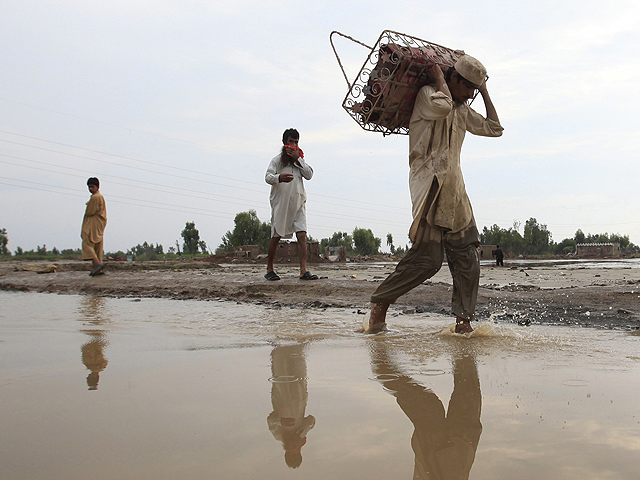 ---
ISLAMABAD: Pakistan is again under threat of flood because of heavy snowfall and fast climate changes and if the country faced high temperatures during the summer like in 2015, they could have devastating effects.

"The provinces will have to remain vigilant to cope with any such situation," Federal Flood Commission Chairman Ahmed Kamal told the National Assembly Standing Committee on Water Resources on Tuesday.

The committee meeting, chaired by MNA Nawab Yousuf Talpur, was briefed on the flood control plans of the federal and provincial governments. During the meeting, Talpur asked Kamal what actions they had so far taken for coping with possible floods this year.

"We always ensure safety of infrastructure and constantly remain in contact with the provincial irrigation and meteorological departments. There has been heavy snowfall this year and the provincial departments would have to remain vigilant in case temperatures rose like in 2015-16," he said.

He said the Met office would forecast about monsoon in May. As a matter of routine, the meeting of all provincial departments regarding flood is called in June. But this year due to heavy snowfall and possible threat of floods, we have held this meeting in March, he added.

Kamal said Pakistan has faced a total loss of $38 billion because of floods and interestingly, half (or $19 billion) of the loss has been caused due to floods in just five years –  from 2010 to 2015.

He said in Pakistan, there has always been threat of flood after almost every three years and the federal flood commission always informs the provinces about it on time.

"Due to the climate change, 14 districts of Punjab and 11 districts of Khyber Pakhtunkhwa (K-P) which are normally safe from floods are now in danger. Pakistan's water sector is in a worst state, as it has been ignored," he added. MNA Ali Nawaz Awan asked the official how he knew that these 25 districts are now under threat. Kamal said these were specifically identified in a study.

The committee expressed anger over the absence of officials of the Indus River System Authority (Irsa). MNA Farooq Azam Malik said there was a very efficient irrigation system in the former state of Bahawalpur, but the bureaucracy could not maintain it and now the farmers are bearing the brunt of it.

Kamal said the Asian Development Bank (ADB) had promised to give Pakistan $2.56 billion for coping with natural calamities. "For this purpose, a special fund would be established. Besides, a ten-year flood control plan is in place for which we have asked the government to provide us Rs15 billion," he said.

The committee decided that it would write to IRSA for not implementing its directions. It also summoned IRSA and the Capital Development Authority (CDA) officials in next meeting.
COMMENTS
Comments are moderated and generally will be posted if they are on-topic and not abusive.
For more information, please see our Comments FAQ