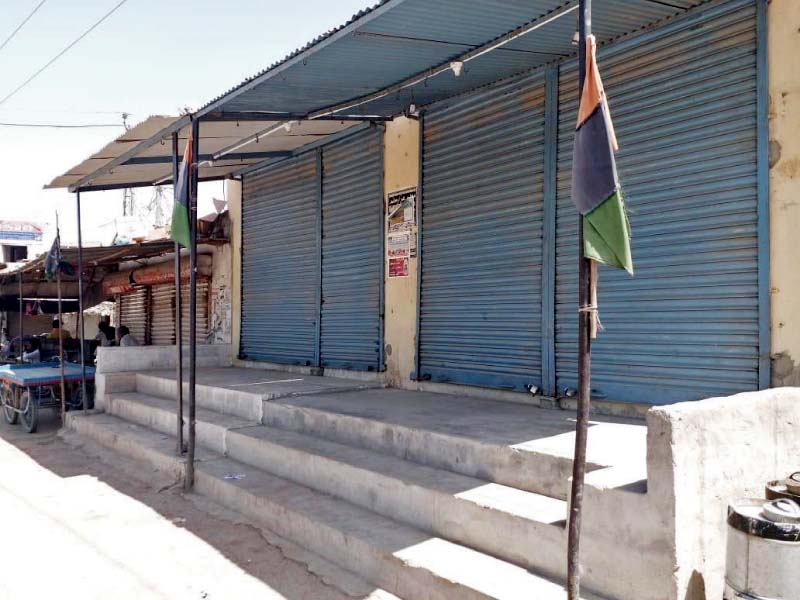 ---
KARACHI: After several months of isolated protests, Badin district witnessed on Tuesday a rare show of unity and observed a shutter down and wheel jam strike in various towns to protest the acute water shortage that has persisted in the region.

Citizens, irrespective of their political affiliation, kept their businesses shut and vehicles remained off the roads. Major markets and roads in Badin Town, Golarchi, Kario Gahnwar, Seerani, Kadhan, Talhar, Rajo Khanani, wore a deserted look as people showed their anger at what they termed an "artificial" water shortage.

"We have been witnessing the worst situation due to the severe water crisis that has persisted for the last ten months," said Suleman Mandhro, a journalist based in Badin. "The strikes and protests have continued for the last two months, but no one listens to us," he lamented.

Mandho, who recently travelled across five union councils of the district, said, "Mass migration has started from tail end areas of Badin. People are unable to cultivate their crops and even drinking water is not there." He said that sunflower and wheat crops are badly affected due to the shortage of water.

Unity in adversity

The situation has even compelled political opponents to come together and raise their voice over the issue. Family members of Pakistan Peoples Party (PPP) MPA Taj Mohammad Mallah and PPP Badin information secretary Hanif Khaskheli were among those who joined the protest organised by local activists, and civil society members.

Noor Ahmed Talpur, a member of the Badin district council, blamed PPP lawmakers for what he claimed to be an 'artificial shortage'. "They have diverted the water from main canals, creating a man-made crisis," he said, adding, "Water comes from Akram Wah and Goni wah of Kotri Barrage, but these influential persons have created problems by blocking water and diverting it to irrigate their lands."

The situation

Reports pouring in from various sources suggest that Badin and Golarchi Tehsil are among the worst-hit areas where a drought-like situation persists. People from many villages, including Gul Hassan Lakho, Punho Pali, Ahmed Rajho, Dodo Soomro, Golo Mandhro, Haji Hajam and Ahmed Rajo have started migration to safer places.

Referring to Golo Mandhro village, Aziz Dero, a former elected representative of the area, said, "Believe me, we are finding it increasingly difficult to grow crops and drink water as irrigation water has become extinct and the sea level is rising, turning the once fertile land saline."

According to Dero, Tuesday's protest was a historic event in the district. "No one has forced people. They have voluntarily gone on strike because of the worst situation they have been facing for a long time," he said, adding that people have no other option, but to shut their businesses and set aside their routine activities to join the protest.

Barrister Hasnain Mirza, parliamentary leader of the Grand Democratic Alliance (GDA), has been protesting on this issue in the Sindh Assembly. "I have moved a resolution against the severe artificial shortage, but unfortunately the government is avoiding it because its powerful people are beneficiaries of it," he told The Express Tribune.

According to Mirza, PPP leaders and the government were taking revenge from the people who had voted against them.  On the other hand, irrigation officials termed it a routine shortage of water. "It is not a man-made shortage," said Badin Deputy Commissioner Hafeez Siyal. "The allegations are baseless. The shortage comes from upstream."

Published in The Express Tribune, April 3rd, 2019.