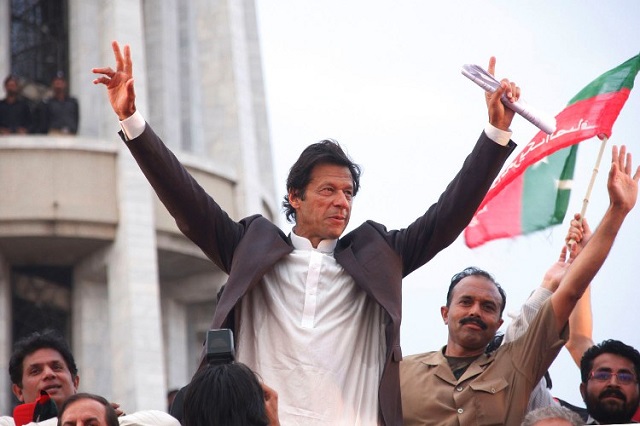 ---
Prime Minister Imran Khan becomes the 9th famed leader on microblogging website Twitter.

Twitter followers. (million)@realDonaldTrump: 59.5@narendramodi: 46.7@Pontifex: 17.9@RT_Erdogan: 13.6@SushmaSwaraj: 12.4@jokowi: 11.1@QueenRania: 10.4@HHShkMohd: 9.6@ImranKhanPTI: 9.4@KingSalman: 7.3@10DowningStreet: 5.4@EmmanuelMacron: 3.7

— The Spectator Index (@spectatorindex) April 3, 2019

According to the numbers and stats all over the world in politics, history, science, technology, the spectator index on Twitter has issued the list of world's most renowned leaders in which PM Imran Khan with 9.4 million followers and has easily come number 9th on the list.

PM launches Pakistan Citizens' Portal to address public complaints

Many users did take to Twitter to comment on the list and state that Barrack Obama should be number 1 as he has 105 million followers but keeping in mind that he is not a current leader or is not serving in capacity of any government is why he has been kept off that list.

While, Donald Trump tops the list with almost 6 million followers, followed by Indian PM Narendra Modi, Pope Francis, Erdogan, Sushma Swaraj and Sheikh Muhammad Bin Rashid.

Pakistan Citizen Portal crosses 100,000 resolved complaints mark: PM

Imran is not far away from Dubai's Crown Prince. Imran is followed  Saudi Arab's Shah Salman Bin Abdul Aziz with 7.3 million followers and is the tenth on the list of the famous leaders of the world.

Recently, Pakistan Citizen Portal (PCP) secured the second place in the top three Best Mobile Government Apps out of over 4,600 entries at the World Government Summit held in Dubai.
COMMENTS
Comments are moderated and generally will be posted if they are on-topic and not abusive.
For more information, please see our Comments FAQ