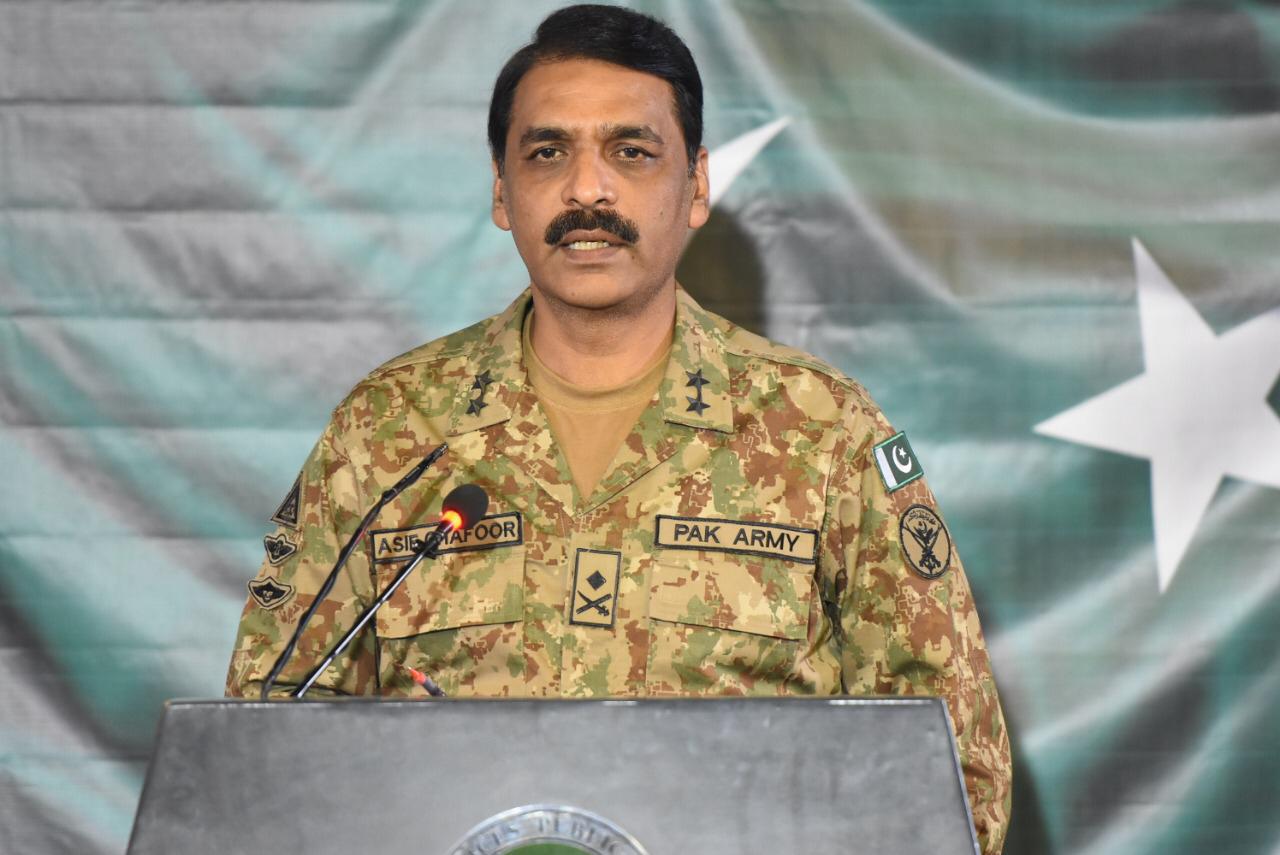 ---
KARACHI: Rubbishing India's claims of shooting down a Pakistani F-16, Pakistan's military on Monday said Delhi cannot deny that the PAF warplanes shot down two IAF aircraft in the February 27 air battle over Kashmir.

"The event of February 27 is part of history now. No Pakistani F-16 was hit by the Indian Air Force (IAF)," Inter-Services Public Relations (ISPR) said in a statement referencing the Indian claims.

"As regard PAF action for strikes across the LoC [Line of Control], it was done by JF-17 from within Pakistan airspace. Later when two Indian jets crossed the LoC, they were shot down by PAF."

The military's media wing added that whether F-16 or JF-17, the kind of aircraft the PAF used to shoot down two Indian jets is 'immaterial'.

"Even if F-16 have been used, as at that point in time complete PAF was airborne including F-16s, the fact remains that Pakistan Air Force shot down two Indian jets in self defence," the ISPR statement read.

In pictures: Wreckage of Indian jet shot down by PAF

"India can assume any type of their choice, even F-16. Pakistan retains the right to use anything and everything in its legitimate self-defence," it concluded.

Talking to The Express Tribune, Wing Commander (retd) Naseem Ahmed stressed that the ISPR statement should not be read as an admission that F-16s shot down the two warplanes India had lost on February 27.

"I think it is important to see this statement in context… all ISPR is saying that it does not matter which type of fighter jet PAF used that day, India still lost two aircraft and Pakistan lost none," he said. "India has not been able to provide any proof this is not the case."

Air Commodore (retd) Jamal Hussein agreed. "Apart from Indians, everyone believes the PAF shot down two IAF jets," he said.

According to Wing Commander Naseem, one reason among others why India is doubling down on the F-16 angle is to counter the boost in profile of the JF-17 as a result of the February 27 air battle.

"It is known that we have been trying to market JF-17s to other air forces… for us, if we manage to sell even 50 JF-17s, we will recover the cost of the project," he said. "Since JF-17s shot down two IAF jets, we can now confidently say it is a combat proven aircraft. Obviously, India would like to dispel that notion."

That being said, both Wing Commander Naseem and Air Commodore pointed out that the sole piece of evidence India has provided to support its account contradicted the Indian claim, instead of proving it.

In a news conference following the February 27 air battle, senior officers from all three of India's military services paraded a fragment of an AMRAAM missile as 'definitive proof' that PAF used F-16s in the action. Claiming that the American-made missile could only have been launched by an F-16, the Indian officers tried to use the missile fragment to shore up support for their F-16 downing story.

How Indian jets got away with Jabba incursion

"The problem with presenting a missile shard is that an AMRAAM does not fragment unless it hits a target," said Air Commodore Jamal. "This is correct, if an AMRAAM were to miss its target, it would fly until it ran out of fuel and then drop to the ground," said Wing Commander Naseem.

Air Commodore Jamal added that if it crashed in this manner, an AMRAAM would not disintegrate like the missile Indian officers have displayed. "An AMRAAM that crashed would be damaged of course, but still be largely intact."

"The question then is how did India come by this AMRAAM fragment? If it indeed belongs to a missile launched by a PAF F-16, then all it proves is that it hit a second Indian jet," he said. "Because, the chances of finding a missile fragment are astronomically low unless it is found near the site where the plane it hit went down."

Air Commodore Jamal's comments echoed the findings of an Asia Times report that debunked Indian claims of shooting down an F-16. Citing officials from both Pakistan and India's air forces, the report too suggested that the AMRAAM fragment could be evidence of the downing of the second Indian jet.

"What the Indians don't seem to realise is how the AMRAAM got there. There's a reason why no debris of the jet has been recovered and only the remains of the missile have been found," the report quoted former PAF F-16 fighter pilot Air Commodore (retd) Kaiser Tufail as saying.

"When a missile hits a jet it breaks down into small pieces just like the aircraft it targets – it doesn't vaporise. If it doesn't hit the target, its rocket fuel finishes in 20-25 seconds, and it just falls down on the ground intact. So the fact that an AMRAAM piece was recovered proves that the F-16 did strike a target," it quoted an IAF officer as saying.

Regarding the second IAF jet shot down, Air Commodore Jamal said he is '90 per cent sure it was an Su-30." He added that if it was indeed an AMRAAM that shot it down, it would be the first time this type of missile took down "a top notch fourth generation fighter jet that was carrying out evasive maneuvers, was manned by a skilled pilot and equipped with advanced counter-measures."