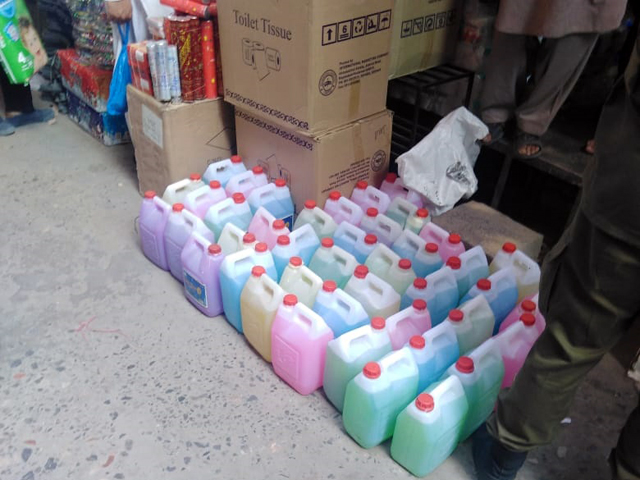 ---
ISLAMABAD: A large quantity of liquid soap was confiscated from a Rawalpindi shop and its owner was taken into custody on Saturday after the chemical, being used at various government hospitals and offices in twin cities, turned out to be highly acidic and injurious to health.

The raid was carried out by Assistant Commissioner Muhammad Iqbal on the directives of Rawalpindi Deputy Commissioner Ali Randhawa, who had taken notice of a complaint lodged by officials of the Climate Control department.

The officials had complained that the liquid soap being supplied to their office was of substandard and counterfeit.

A large number of bottles filled with counterfeit liquid soap were recovered in the Nankari Bazar raid. The shop owner told police that the product was being supplied to several hospitals and government offices in the twin cities.

Danger in disguise: Experts warn against fake beauty products

Sources privy to the development told The Express Tribune that the chemical contained a large amount of acidic pollutants hence seriously injurious to human skin, according to the laboratory test conducted on the liquid soap.

The chemical is manufactured in plastic bottles threw away by local hospitals. Medicines used in the process of kidney dialysis are stored in the same plastic bottles, which are also used for manufacturing counterfeit cosmetics.




In 2016, the US Food and Drug Administration had banned several key chemicals in antibacterial hand soap, warning of health risks and saying they were not more effective than ordinary soap.

The FDA move took aim at 19 ingredients including the two most common, triclosan and triclocarban, which are widely included in liquid and bar antibacterial soaps despite fears they damage the immune system.
COMMENTS
Comments are moderated and generally will be posted if they are on-topic and not abusive.
For more information, please see our Comments FAQ