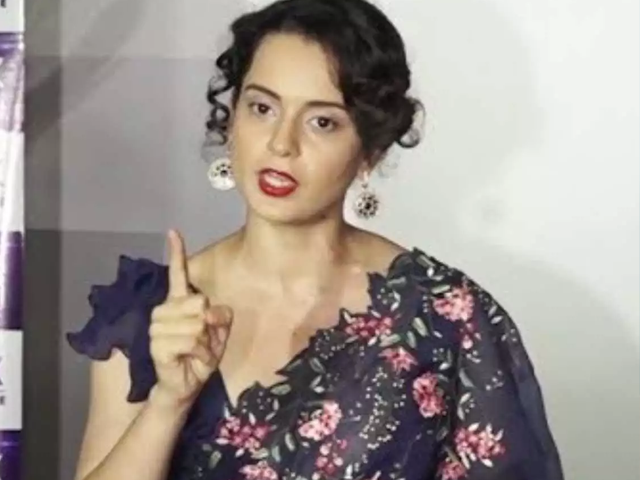 ---
Time and again, Kangana Ranaut has stood out from the usual closed-knit Bollywood film fraternity with her brash attitude and crude remarks against literally, everyone.

At a time when all celebrities at least pretend to be supporting each other, if not actually supporting each other, Ranaut has somewhat become a one-woman army.




The Queen actor doesn't really shy away from openly criticising other actors and film-makers. From openly accusing all of Bollywood for for not supporting her films and ostracising her from its community to calling out nepotism in the industry, Ranaut always says it like it is and doesn't bat an eyelash while doing so. Who else could have called Karan Johar 'the flag-bearer of nepotism' on his own show?

The actor made her debut with Anurag Basu's 2006 hit Gangster, which also starred Emraan Hashmi.




Recently, the Manikarnika star has been seeming particularly on edge. Her latest claim is that she was offered Deepika Padukone's role as the female lead in Sanjay Leela Bhansali's period drama, Padmaavat. And there are three more explosive statements from Ranaut that have made headlines this week:

When she almost bagged 'Padmaavat'




According to a report in Mid-Day, the actor spoke about her meeting with Bhansali. Ranaut said, "Yes. There was this conversation and I was doing Manikarnika then, so it didn't go anywhere. But we had a brief narration."

She went on, "Before that as well, he wanted me to do the Ram-Leela song (performed by Priyanka Chopra). He is a film-maker who can leave strong impressions on you, especially if you are a fresh mind."

Unnecessary bashing of Ranbir Kapoor, Alia Bhatt




Ranaut has been very vocal about her ill-feelings towards Bhatt. When asked why she loved picking on the Raazi star and her beau, she said, "I do only that when I am rubbed the wrong way."

She continued, "And what is this thing of calling them young... Ranbir Kapoor is, what, 37 years old and Alia Bhatt just turned turned 27. My mother had three children at 27."

When she belittled Rani Mukerji's stellar performance in 'Black'




Rani Mukerji's remarkable performance in Black made her seemingly every major award the year it came out. However, Ranaut isn't impressed.

She told a daily, "I remember going for Black. At that time, people around me, from theatre, were suggesting I do films which I thought would be difficult. I went with my roommate and told me if we could act like that, we could also become like them. And I said, 'I can do this. What's the big deal'?"

"I went back to my hostel, tried to enact [Rani Mukerji's character] before the mirror. And I knew I can definitely do this. That day, I found the confidence," the actor shared.

While there's no denying that Ranaut indeed is a brilliant actor, undermining Mukerji's performance in Black might be a new low for the Tanu Weds Manu star.

Have something to add to the story? Share it in the comments below.