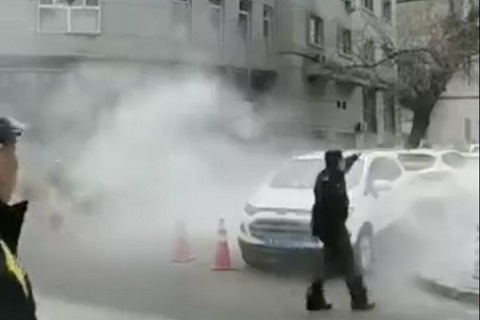 ---
BEIJING: Three people were injured and the suspect killed in an arson and homemade explosive attack on a police station in northeastern China on Thursday.

The attacker set fire to the Shenyang Public Security Bureau's traffic police department at about 1:50pm (0550 GMT) before setting off an explosive device made with gunpowder, the bureau said in a statement.

"The suspect died on the spot," the bureau said, without specifying how he died.

One civilian and two police officers suffered minor injuries in the attack, which is under investigation, said the bureau in Shenyang, Liaoning province.

Images posted on the social media account of state broadcaster CCTV showed smoke billowing from the lobby of the traffic police station.

Another picture showed a blackened lobby with burn marks on the building exterior, while second storey windows and the windshields of cars parked outside were damaged in the blast.

A policewoman also appeared to have hurt her arm in the incident, an eyewitness told the state-run Beijing Youth Daily.

The incident came two months after twin blasts in the neighbouring city of Changchun rocked a high-rise building, killing one person and injuring another.