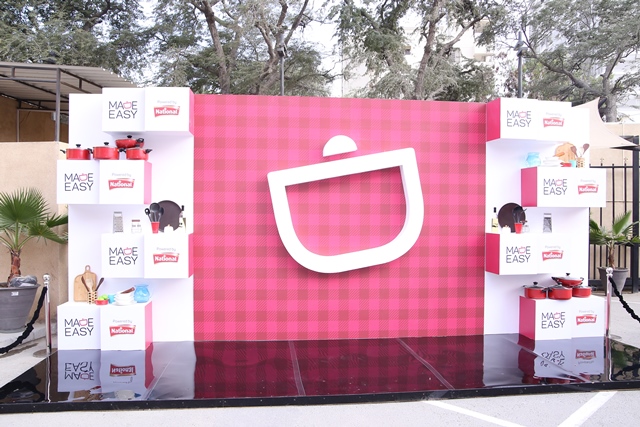 ---
There are many prerequisites that one needs to master to be able to reach perfection in the culinary world. Cooking is no less than fine art, but for many individuals, it is not as easy as it may sound to channel their inner chef. Good food is not only made from a recipe that takes your taste buds on a rollercoaster ride, but also needs to be a treat for your eyes. National Foods Limited in collaboration with D'Hamidi Partnership has developed the ultimate solution to all your kitchen-related needs with MadeEasy!




Recently, an event was held at the National Foods Limited's Head Office to officially unveil MadeEasy. The fabulous Anoushey Ashraf hosted the evening and CEO Abrar Hassan inaugurated the portal with a grand reveal. MadeEasy is an easily accessible new platform in the form of a website as well as the application, which aims to redefine modern cooking. The platform gives a new definition by encouraging budding chefs to explore their full potential and master new techniques.




You can access the app from your phone, tablet, or log on to the website from your computer. Additionally, if you need guidance, representatives are also available at all different social media platforms to help out. Just when we thought our cooking dreams will never come true, National Foods Limited stepped up to give us new hopes with cooking techniques MadeEasy.




What inspired MadeEasy?

National Foods Limited has always been passionate about creating opportunities where people gather together to rediscover the true meaning of getting social according to the eastern philosophy. "To us, the kitchen is the heart of the home and we enjoy living and dining as Pakistanis do, by savouring authentic ingredients and gathering to connect with friends and family around the table." Their easy to cook recipes are thoughtfully designed to simplify and inspire every cook in any kitchen, whether professional or at home. Premium quality, innovating and time-saving cooking solutions are some of the ingredients they value the most.




What makes them so delicious?

MadeEasy is a brainchild based on a lot of thoughtful yet assertive planning. It represents the personality of a human chef. As a brand it is as playful, fun and friendly as a young couple in the heart of the home, the kitchen. Ever so social, it wraps its proverbial arms around the tradition of a family gathered at the dinner table. Very eastern in nature, it is chic, comfortable to be with and flexible.




When it comes to the recipes, it's all about simplicity, convenience and saving time for spending time on things that matter most. They have put in a lot of hard work in coming up with recipes that are life-changing, life-enhancing and life-simplifying. They celebrate anyone who likes to cook and want to give a message to amateurs that they believe in them with their 'anyone can do it' tone.




While addressing the audience, Faraz Maqsood Hamidi also shared that the 'D' in "MadeEasy" was inspired by a simple pot and one of the best outcomes out of it was that it could be used to represent different cuisines from Chinese to Breakfast and even Desserts. Thus, MadeEasy doesn't just teach you how to cook delicious food but also equips you with the art of plating it.




Your favourite dishes now MadeEasy

Team MadeEasy has not only thought about the brand, but also made sure to collaborate with the best professional chefs who aim to inspire aspiring chefs with their expert insights. When culinary artists like Zaeema Tariq styles their recipes, Hussain Tariq and Aisha Ibrars food not only tastes scrumptious, but also looks amazing!




Kudos to National Foods for coming up with such an innovative platform that is providing amateur chefs as well as foodies with tantalising recipes they can devour on. You can checkout MadeEasy recipes on the official page or download their app on iOS or Android. So all of you cooking aficionados out there put on your chef hats and start cooking with MadeEasy because it can't get simpler than this.
COMMENTS
Comments are moderated and generally will be posted if they are on-topic and not abusive.
For more information, please see our Comments FAQ