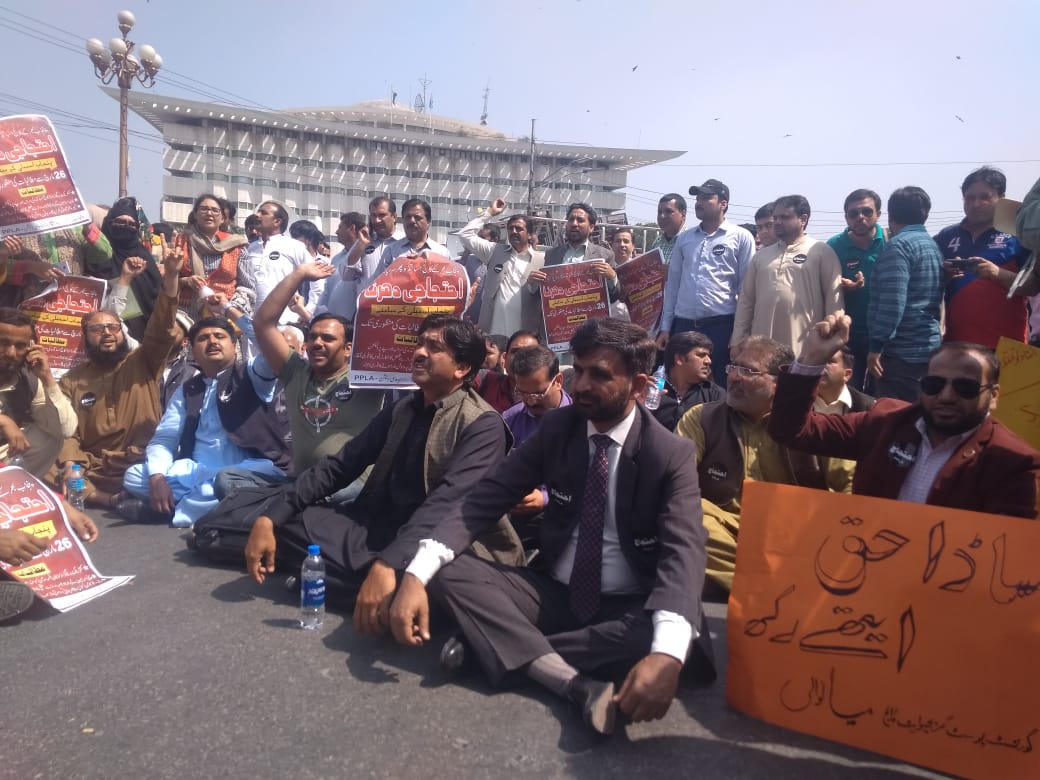 ---
LAHORE: After the sit-in of the Lady Health Workers (LHWs), lecturers and professors of government institutions in Punjab followed suit and gathered at Faisal Chowk to press for their rights.

They staged a sit-in like the LHWs who had refused to leave until their demands were accepted. The protest was organised by the Punjab Professors and Lectures Association (PPLA).

The charter of demands of the protesters included implementation of service and pay protection, lifting of ban on promotions and introduction of a five-layered formula for the promotion same, as followed by the government of Khyber Pakhtunkhawah.

A physically-impaired teacher, who had come from Sargodha, said he traveled all the way just to support his community. He said teachers were respected by governments across the world. "Unfortunately, it is not so in this part of the world," he regretted.

Another protester said their promotions had been stalled for more than one and a half years. He said there was no service structure available for them. "In the absence of a proper service structure, the lectures sometimes had to wait for 20 years for a promotion. In many cases, they retire in the same grade," he said.

The protesters said the department made a lame excuse of promotion after training. The teachers said they were not against training, but were instead demanding promotions which were their due right.

Another protester said they were inducted in 2001-2002. However, their seven years' service tenure was not included in their experience.

Another teacher demanded the implantation of the five-layered formula for the promotion of education staff. He said it was unfortunate that lecturers and professors were not granted promotion beyond Grade 20.

Another professor also condemned the murder of a teacher in Bahawalpur by a student. He said they wanted financial and physical protection. A lecturer protested against cuts in salaries under different heads. One of the protesters said on average, Rs2,400 were cut every month.

The protesters said they took to streets when the authorities refused to address their issues. "We have submitted several applications and conveyed our grievances to the Punjab chief minister, the governor, the Punjab Assembly, the Higher Education Commission, secretary education and other competent authorities – all to no avail," he remarked.

"Instead of solving our issues, we were made fools through false promises."

The protest caused traffic congestion in most parts of the city. Mall Road is a major artery and its blockade affected the whole traffic flow on adjacent roads as well. Besides, it is home to important government offices and commercial areas including WAPDA House, Governor House, Alhamra Hall, 90-Shahra, Lahore Zoo, CCPO Office, Lahore High Court, State Bank of Pakistan, GPO, DCO Office, Panorama Shopping Centre and Hall Road Electronic Market. A large number of commuters use the road to travel and the spillover effect led to congestion on Cooper, Ferozepur and Queen's roads.

The City Traffic Police Lahore (CTPL) deployed an extra contingent of wardens to maintain the flow of traffic. They also created diversions on the roads leading towards the protest site. Lahore Police also deployed police officials to maintain law and order. The sit-in continued till the filing of this report and no one from the authorities concerned contacted the protesters.


COMMENTS
Comments are moderated and generally will be posted if they are on-topic and not abusive.
For more information, please see our Comments FAQ